In a night packed with action, Brian Aidenson overcame 24 men to win the Rumble in Runcorn.
Robinson livid
RWA referee Des Robinson was forced to participate in the Rumble after some questionable calls over the past few shows.
Not only did he have to participate, but he was also given the number one spot.
And when asked how tough it has been to prepare for the match, Robinson replied.
"There's only so much cardio that a referee needs to do but I have been hitting the treadmill quite a bit.
"Being in the rumble, I know that I am going to be in there for at least an hour and a half because I am going to win it."
Kickoff Showcase Match
Tommy Murphy faced off against Abaddon who was accompanied by the newest Rejected member, Tommy Jackson.
The latter of the men receiving a huge ovation from the crowd.
Abaddon would get the advantage at the start, overpowering and outsmarting Murphy.
The tides would turn when Murphy caught his opponent with a leg corkscrew whilst Abaddon was hung up on the ropes.
A standout moment of the match was when Tommy hit a suicide dive to both members of the Rejected.
Abaddon would pick up the victory when he hit the Reborn Driver.
Tag Team Elimination
A four-way elimination match kicked off the main card.
FRONTline defended their titles against Syndicate Evolved, The Arcade and the team of Matt Fox and Gloriam Mor.
A referee distraction led to the first elimination as Syndicate Evolved hit a back suplex/neck breaker combination and Jack Sinclair would take advantage to eliminate Fox and Mor.
Syndicate would go next when Glitch hit a devastating spear to knock them off.
FRONTline would successfully retain their titles when Lance Revera hit a lethal superkick to pick up the victory.
It's Ramsey time
Geno Ramsey took to the ring to explain why he turned on KC Payne at All Hallows Brawl.
Ramsey said the Payne failed him time and time again.
A chorus of KC Payne chants filled the crowd and Ramsey would respond saying that Payne was not there and won't be for a while.
No one in the locker room is man enough for Geno as he explains until…
Reilly Jackson returns! Not unarmed though, with his favourite set of golf clubs.
The clubs were just a distraction though as he would hit a low blow on Ramsey and then proceed to hit club shots on him.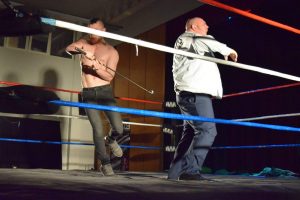 Women's match with bad blood
Harley Hudson would look to regain the Women's Championship from Kimmy Goldwing.
The match got off to a blistering start as Hudson charged Goldwing with a Lou Thesz press.
The two women would not get to showcase their talents as FRONTline manager Stacey Rose attacked both wrestlers.
The brawl continued until Lance Revera, Jack Sinclair, Jordan Jones, and Rabid Reilly held back all three wrestlers.
Next Level performance
Jordan Jones defended his Next Level Championship against Brian Aidenson in the fourth match of the night.
Jones with a John Morrison-esque entrance.
This match had a great balance of good wrestling and comedy.
A standout moment from this match was when Jones tried a top rope attack and the challenger reversed it into an arm drag.
The match would come to a crescendo when Des Robinson came out and threw a foreign substance into the eyes of Aidenson.
Jones would hit a low blow and pick up the three count.
Great storytelling from Aidenson and Robinson as they carried on their feud.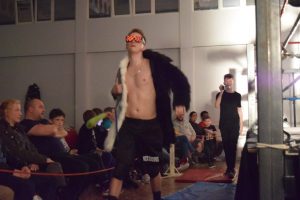 Heavyweight Championship clash
Harry McKenny had his first title defence against the former champion Rabid Reilly.
McKenny told MerseySportLive how he prepared for his match against Reilly:
"I have trained every Saturday at Runcorn, trained in the gym every day and at our YouTube videos from the last match we had.
"I am prepared more than ever."
The champion entered with his Syndicate Evolved stablemates. However, Reilly had other ideas, surprising the team with an attack during their entrance.
A fast-paced match saw McKenny taking full advantage of reversals and a brilliantly executed springboard codebreaker from Reilly.
Another amazing moment in the match saw Reilly hit the champion with a rope hung DDT. An emphatic sell from McKenny as he spiked the move.
The championship found its way to the ring towards the end of the match and as the challenger debated whether or not to use the title as a weapon, McKenny took advantage hitting a perfectly executed Twisting Unprettier to successfully defend his title.
Expect to see huge things in the future from these two young men.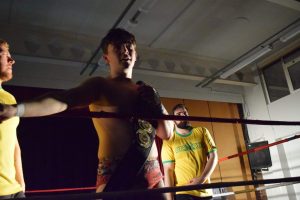 A rumble to remember
With Robinson starting at number one, the crowd waited in anticipation to find out who drew number two.
Robinson's fierce rival, Brian Aidenson was that man!
A surprise return at number three saw Mr Williams come to the aid of Des Robinson.
Number five and out comes Fennicko Verde. The masked man did not last long though.
The match continued and a bit of revenge saw Aidenson toss some foreign substance into the eyes of Robinson and that meant he could throw him over the top rope with ease.
We get to number 12 and… Hang on? Fennicko Rojo entered the rumble!
Geno Ramsey entered at number 14 and decides to bring out a chair and sit on the outside of the ring. A great heel tactic for a rumble.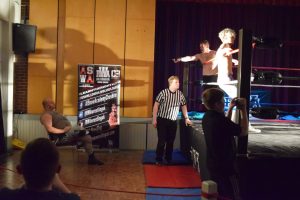 Ramsey did not get much resting time though as number 15 was Reilly Jackson and he had his golf clubs with him again.
Fennicko Rojo was eliminated amongst a host of others.
We get to the penultimate entry and it's… Fennicko Azul!
The Final Entry?
The final wrestler was about to enter and confusion amongst the crowd of who it could be.
KC Payne is the final man! Ramsey was not entertained.
Payne would get his revenge when he eliminated his former tag-team partner and cost him his chance at the RWA Heavyweight Championship.
The dastardly Ramsey came back into the ring to toss Payne over the top rope! They would brawl through the crowd into the back.
The Final Two
Down to the final four which consisted of Brian Aidenson, Tommy Murphy, Jordan Jones, and Rabid Reilly. All four men had already been in action on the night.
From the final four to the final two. Jordan Jones and Brian Aidenson stood across the ring from each other.
With Jones on the apron, Aidenson capitalized on the moment, hitting his opponent with an enzuigiri.
Entry number two Brian Aidenson overcame 24 other men to win the rumble!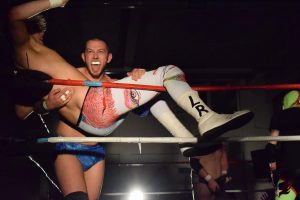 The champion confronts the Rumble winner
RWA Heavyweight champion Harry McKenny came out to confront his future opponent.
MerseySportLive had the chance to speak to the winner after the event.
Aidenson was thrilled with overcoming the odds and his victory saying.
"I am very elated, very tired though.
"It is tough fighting against 24 other very high skilled combatants. Even against one on one.
"I already had a match tonight against Jordan Jones and that guy can really work, he pushes you to the limit.
"Going up against 24 wrestlers is extremely difficult. Not impossible though as I proved."
Aidenson also commented on eliminating Des Robinson in the match, he said:
"It was excellent, it felt really good.
"Last show he cheated me out of a win by throwing foreign substances into my eyes. He did it again tonight, so to just kick it back in his face was enough but then to get a grip of him and launch him over the top rope was a very special moment for me.
"If he wants to come back and have another go that is fine but I have kicked him in the face before and I will happily do it again."
(Pictures courtesy of Joe Davidson)