As Bellator's May 16th card in Wembley's SSE Arena looks set to host Team Kaobon fighter Raphael Uchegbu's third professional fight, the outing could be yet another reminder of the bright future ahead for the bantamweight fighter.
As many from Team Kaobon have led the way, Uchegbu looks set to be the next mixed martial arts star from Liverpool.
From the days of Terry Etim, Paul Kelly and Paul Sass representing the city at the turn of the last decade to Darren Till, Mike Grundy and Tom Aspinall leading the line for Team Kaobon in the present day, the path to success could not be clearer for Uchegbu.
The bantamweight fighter currently sits at 2-0 after turning professional last year, but he has already attracted attention from the sport's second biggest promotion.
His debut came against Lee Percival at Bellator Birmingham last May. It took him just over two minutes before he caught his opponent in a triangle choke and ended the contest.
He similarly showcased a wide variety of skills both in the striking and grappling department in his most recent fight against Shane Campbell last November, before finishing the fight in the third-round, again by submission.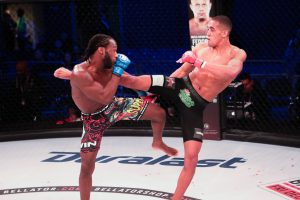 Uchegbu is one of many young English fighters building their way and the sport has arguably never been finer in the country.
A flood of English talent are already at the highest level of the sport, with fellow scousers Darren Till and Molly McCann enjoying regular worldwide success in the UFC.
Bellator, however, has become the perfect platform for young fighters to establish themselves. Their investment into fighters from Europe has been substantial and a quick ascension to the top is attainable.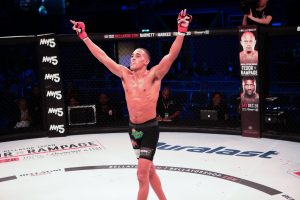 An example to prove that is London's Michael 'Venom' Page, who proved UFC status is not a necessity for recognisable success in the current day.
With the skills and support Uchegbu possesses, his rise could not only be sharp, but instrumental as he could become one of Bellator's biggest names and yet another stand-out athlete from a city decorated in years of combat history.
All images used with permission from Bellator MMA