Southport fan and local businessman, Paul Newnham, has offered to donate £10,000 to help the club through the next two months of uncertainty.
The Sandgrounders currently sit twelfth in the National League North and are seeking donations to pay staff and players. The competition was suspended on 16th March, in accordance to government advice following the Covid-19 outbreak.
Paul owns local business, Pinetree Garden Maintenance, which has supported the club for several years.
The kind gesture is the latest in Pinetree Garden Maintenance's relationship with Southport, as the landscaping company already sponsor the Popular Terrace Stand. As well as the stand naming sponsor, they also sponsor three Southport players.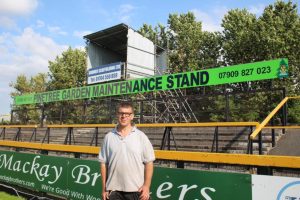 After the unveiling of the stand in August, a delighted Paul told Southport:" It's great to be able to support the club and take out these sponsorship's and I look forward to a long partnership with the club. I've been a supporter for a long time now and always wanted to help in any way I can."
Like many non-league Football clubs across the country, Southport are reliant on cashflow from home gate receipts. Haig Avenue, Southport's home stadium holds just over six thousand fans at capacity and is the clubs' main source of income.
The Port also generate income through events and midweek bar facilities, both of which are being severely impacted. With the struggles they are experiencing, Southport have actively encouraged fans and supporters to continue to support the club.
Club Secretary James Tedford said: "These are unprecedented times for our club and there is no getting away that this may signal the end of many clubs across the pyramid.
"I am grateful for the endeavours of many at the club over the last 12 months to make the necessary cutbacks, without which this current pandemic could have brought an untimely end to our 139 history."
The worldwide pandemic has hauled all professional sports across the U.K. with the F.A suspending all Football until at least April 4th. The likelihood is that the season will be cancelled along with other high-profile sporting events like the Randox Health Grand National.
League One and Two clubs have appealed to Premier League sides for donations to keep them afloat. The idea of a donation is so the clubs can continue to operate during the lockout, by paying staff, players and fees.
It is key that is it a donation rather than a loan. The idea being that the clubs are not in-debt to the topflight teams. If Every Premier League club donated £500,000 this would generate £10million to disperse across the Football league, but some involved have said this isn't enough and have called for the clubs to pitch in £2.5 million each.
Southport have extended their thanks to Paul for his wonderful gesture and all the other local businesses for their continued support.
For more information regarding donations towards Southport see: https://southportfc.net/donations/