After Joe Gomez's knee injury on international duty, Jurgen Klopp has only one fit senior centre half in Joel Matip.
Gomez, 23, underwent knee tendon surgery on Thursday and is expected to miss a large majority of the season.
The Reds have already lost Virgil van Dijk for the season to a ACL injury suffered back in October and sold defender Dejan Lovren in the summer to Zenit.
So boss Klopp has a month and a half until the January transfer window – but who might they sign?
David Alaba
Liverpool could turn back to European Champions Bayern Munich to sign Austrian David Alaba.
Klopp signed midfielder Thiago Alcantara in the summer with a year left on his contract.
The former left-back has impressed at centre-half over the past few years and helped Bayern to their Champions League back in August.
A similar situation is developing at Bayern with Alaba with the Austrian refusing to sign the contract Bayern have put forward to him.
Liverpool could try and steal Alaba in January but face the prospect of paying him a huge wage which may not be possible.
Conor Coady
Ever since Virgil van Dijk's injury, Conor Coady has impressed for Wolves at the start of the season.
Liverpool legend Jamie Carragher has joked with Coady about re-joining the Reds on a recent Monday Night Football.
Coady left Liverpool in 2014 as a holding midfielder but has since reinvented himself as a centre-back.
He could be an option – but Nuno Esprito Santo will expect a decent price for their captain.
Dayot Upamecano
Dayot Upamencano is one of the most watched centre backs in Europe at this moment.
His performances for RB Leipzig has seen him linked with a move to the Premier League.
Upamecano currently has a £40million release clause that is active from Summer 2021.
However, if Jurgen Klopp wants the Frenchman in January he will have to pay extra, similar to the Naby Keita deal in 2018.
Kalidou Koulibaly
One of the expensive defence options is Napoli defender Kalidou Koulibaly.
At 29, questions are being asked to whether pursing an ageing defender is worth the risk for the reds who would be expected to pay £70million plus.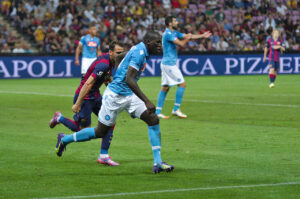 Koulibaly is a proven champions league level defender who would create a potentially unstoppable pairing with Van Dijk when the dutchman returns from his layoff.
Ozan Kabak
One avenue the owners Fenway Sports Group (FSG) is to buy young players to be developed under Jurgen Klopp.
This could lead to the reds signing Turkish defender Ozan Kabak who currently plays for Schalke.
During "Thiago Friday" and "Jota Saturday" various reports around Liverpool saw the reds linked with the Schalke defender to replace Dejan Lovren who left for Zenit.
Kabak is only 20 years old and has plenty of first-team experience under his belt.
Schalke's financial situation makes this deal suitable for Liverpool as Schalke look to offload some of their assets to balance the books.
Who would you want Liverpool to sign in January?
Tweet us @merseysportlive with your option!