Whilst those in the elite tiers of football sit behind the walls of their state-of-the-art homes after a 'hard' training session, those involved in Non-League football are not so fortunate at this precarious time.
The idea of football being a fulfilling and sumptuous career is far from the minds of those further down the pecking order; it is a far-flung dream.
The development of Covid-19 has seen all forms of businesses put under huge strain. The loss of daily income coupled with the relentless, recurring bills has meant many are close to collapse, if not already extinct.
Football clubs are no different.
City of Liverpool are a side playing in the North West northern premier league and currently sit 14th in the table. Whilst not in any immediate danger of going into administration, the 'Purps' as they are known by their supporters, are still losing significant income with the loss of match day revenue.
Jack Hazlehurst, a player at the club, knows first-hand just how difficult this period has been for those involved in the lower tiers of sport, particularly financially.
"On a personal level, it will be difficult for me if Non-League stops again.
Because i've just recently left my job, my football wage is my only source of income, so that will be difficult with that coming to a stop as obviously there's no football being played."
Hazlehurst was keen to address, however, the fact that he will not be the only one who is finding this period difficult. He acknowledges that all lower league sides and players as a community are facing uncertainty.
"From a Non-League point of view, a lot of clubs will struggle. For instance, Droylsden last year, a team from Manchester, were in our league and unfortunately they had to liquidate themselves and are not in the league this season.
So it's going to be tough on all Non-League clubs, not just myself."
The effect of Covid-19 stretches beyond financial troubles. Performances on the pitch up and down the divisions have fluctuated massively in recent months, with City of Liverpool no different from any other.
The 21-year-old believes one element in particular is key to this inconsistency.
"Playing under a reduced capacity or behind closed doors does doesn't suit us at all. We're used to having the fans there and obviously they're a big help and motivate us.
We lost our first few this season which is the first time that's happened to us for a while. We also went out the FA cup in the early stages, so it hasn't been the best of starts for us, although we got a good win in the FA trophy the other night
With us normally getting average crowds of about 400, it's a lot different when the grounds are empty and I do definitely think no supporters being there has affected us, although again it's probably the same for all clubs."
Having been involved in the sport at a well organised level all his life, from Tranmere academy to Oklahoma University, the disruption in routine is something Hazlehurst is not accustomed to, and certainly doesn't enjoy.
"The thing for me that is most annoying about the current situation is just the lack of playtime. You know, throughout my life I've always been playing regularly and it's something I'm so used to doing.
Obviously for me football is my main passion, and the matchdays and training are things I enjoy. I'd say when I'm not exercising as regularly as usual my body doesn't feel right so I'm desperate for things to just get back to normal as quickly as possible."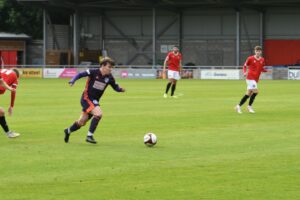 When it comes to goals for the rest of the season for his current side, Hazlehurst is hopeful his team can climb the table once matches are able to resume.
"Even though we've had a slow start I think we can start pushing on now, as we've picked up some good wins in the last few games.
I wouldn't say a play off place is entirely out of reach as the league's still quite tight, and if we can put together a strong run of form at some point we could easily find ourselves much higher up the table
With us just coming into the league a few seasons ago it's important we don't get too ahead of ourselves as well, and so establishing ourselves in the division is an achievement in itself."
Hazlehurst's wish for normality to return is a sentiment that will be echoed in a wider field than the ones on which football is played across the country.