Upcoming Liverpool boxer James Heneghan believes his unique style will prove difficult for opponents to overcome.
Despite being just 22 years of age, Heneghan's impressive amateur career spanned over 40 fights, with the youngster encountering just six losses along the way.
After racking up four straight wins in his fledgling professional career so far, the future appears to be bright for the Liverpudlian, who claims his opponents will have a tough time overcoming his unorthodox style, saying:
"I think the advantages are that it is hard to train for, because it's a unique style. It's hard to train for unless you've been in with it, and obviously not many people have.
"I think it causes people more problems and you've got to work on it a lot more than your typical hands-up fighter."
When questioned on the root cause of his problematic approach, Heneghan dated it back to when he was a youth, saying:
"As a kid, the hands-up and normal style just didn't work for me. I can do it but it just doesn't work as well, so once I started, I realised I had more success being a bit different with it."
The Super Middleweight was recently signed up by boxing hall of fame promoter Frank Warren, who clearly recognises the obvious potential on show.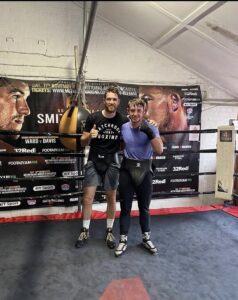 Despite not having any immediate contest lined up due to the current pandemic, Heneghan expects to be back in full training in March. Whilst happy to fight any opponent who comes his way, the youngster did acknowledge one frustration he has with the sport, saying:
"I'll fight with anyone that my management and Frank want to put me in with. If they want to put me in with them, there's a reason for that, so I'm happy to fight any one really.
"I think that's the only issue with boxing sometimes, that everyone wants to fight everyone, and it can kill the sport off a bit, whereas in sports like UFC, the top fight the top and I like that."
Clearly another exciting prospect out of the seemingly bottomless reservoir of talent in Liverpool, it will be interesting to see how Heneghan's career develops over the next few years.
Pictures courtesy of @jamesheneghan_ on Instagram