A Liverpool doctor has raised more than £3,000 after committing to running 5km everyday in January.
Doctor Howard Stringer, who works at Aintree Hospital, has stuck to doing his runs despite  a hectic time for those working for the NHS.
All money received will go to to the Campaign Against Living Miserably, also known as CALM.
The charity is one of the leading movements against suicide in the UK.
The 27-year-old initially starting running in a Sumo costume with a goal of raising £500.
Now the campaign has gained traction nationwide as he has now earned six times his target.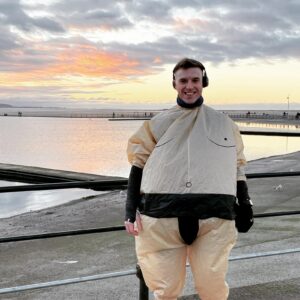 Speaking to Merseysportlive, Dr Stringer said it started as a way to test himself outside of his day job.
"I've always been sporty but thought a challenge of running everyday for a month would push me and my stamina.
"I also thought it would be possible to squeeze it in around my busy job as a doctor at Aintree Hospital."
It didn't take long for his campaign to reach its goal of £500 with that total being surpassed in two weeks.
Now, Dr Stringer has ditched the sumo costume.
Instead he is opting for a pair of red speedo's similar to those of Liverpool's own 'Speedo Mick'.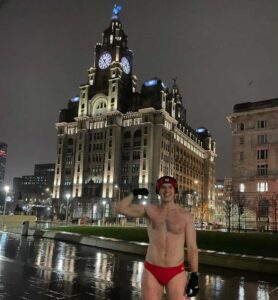 The change came after Howard decided that for every additional £100 raised he would do an extra run.
With over £3,000 donated the local Doctor says the level of support received has surpassed his expectations.
"I've been absolutely blown away by the generosity of those that have supported me through this journey.
"I'm so thankful to everyone who has spread the word too, I couldn't have done it without their help."
One person to show support was 'Speedo Mick' himself.
The 55-year-old spoke to Dr Stringer warning him about the struggles of running exclusively in speedos like he does.
"Mick's support has been fantastic. He definitely was my inspiration to don the speedos as per of my challenge.
"I have to agree with him, slipping on a pair of trunks and going outside (especially at the moment) isn't for the faint hearted.
"It's rather chilly, but it's for an absolutely fantastic cause and definitely raises awareness."
You can still catch him running 5km around Liverpool with many more runs left to do.
With so much money being raised Dr Stringer looks set to be running deep into February.
However, he says he won't stop until every run has been fulfilled.
"I think I have another 18 to do so far, but if the donations keep coming in, I'll still be out there running!
"It's very refreshing, and uplifting too – it's fantastic seeing people smiling and laughing when we're all going through such a difficult time.
"I love to run along the Mersey too and take in the epic backdrop – especially as the sun is setting."
To keep up with Dr Stringer's campaign you can follow his Instagram @sumo5k. Meanwhile to donate go to https://www.justgiving.com/fundraising/sumo5k