After a number of unsuccessful and injury ravaged seasons, Ben Tollitt is enjoying his football again at A.F.C Fylde. The 26-year-old, who spent time at Everton's academy as a youngster, insists promotion back to the National League is the club's main priority this year.
"The club got relegated last season on PPG (Points Per Game) which was unfair, so to go back up this season would be brilliant and justified too in my opinion", Tollitt told Mersey Sport Live.
The club, managed by Jim Bentley, currently sit third in the National league North with three games in hand on leaders Gloucester City.
Anfield born Tollitt is in the form of his career and is currently averaging a goal every other game for The Whites. 
He was keen to highlight the positive impact the coaching staff at the club have had on his career and expressed his gratitude for the faith they have placed in him. He also suggested that they are the reason behind the club's solid start to the campaign.
"I'd had a bad couple of years with injuries and never felt I was given a proper chance coming back from the injuries.
"But the manager and assistant here have made me feel wanted from the moment I first spoke to them which was all's I wanted.
"They are the best I have had as man managers who make you feel so wanted which brings out the best in me but have also taught me new sides to my game that have really brought me on and made me better.
"When you have that feeling from someone that's when you play your best football and that has shown with performances this season individually and collectively". 
The former Blackpool man was also keen to expand on his time spent at Everton as a youngster, emphasising how fortunate he was to visit some amazing places around the world during his time at The Toffees. 
"Although I am a Liverpool fan, them days I'll remember and be grateful for forever. I experienced things some lads can only dream of and played in some great tournaments in some lovely places around the world. 
"I had some of the best coaching you could wish for and played against great teams and also made good friends I still speak to today."
After finishing his studies at Chesterfield High School in Crosby, it was always Tollitt's intention to be involved in sport in some capacity but admitted he had alternative aspirations of becoming a pilot if a career in football didn't work out.
Tollitt is flying on the football pitch instead. He has netted six goals in 12 appearances this season. 
The father of one entered the professional level at a rather late stage compared to the teenagers we are seeing break through at clubs nowadays.
He was 20 when he put pen-to-paper on a on
e year deal at then League Two club Portsmouth.
He admits that only once he signed the contract at Pompey did he realise a career in football was very real.
"I didn't think that I could make a career from football until I signed for Portsmouth. I was working with my dad fitting windows, doors and conservatories.
"Never in a time like that do you think you're going to make it. I was just enjoying playing non-league football every week".
He featured 12 times and scored one goal for the south coast outfit before being loaned and later sold to Tranmere Rovers, a team that he revealed rejected him just months before he signed for Pompey.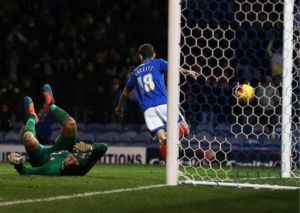 "Me and my dad did a job at a guys house who knew he could get me a trial at Tranmere. 
"I thought he was talking rubbish to be honest, but I went along with it and I played in a trial match. I scored, set a few up and my team won but they never wanted me and I thought that was it done."
How wrong he was. 
Just months later he found himself on his way to Fratton Park, 225 miles away from Anfield stadium, the ground he can see from his mother's house on the other side of Stanley Park.
"It was scary to be honest. I had never lived on my own and didn't know how to use a washing machine or anything like that!
"I had always been spoiled by my mum and if you go any further down south you end up in France!
"I quickly had to grow up. Make new friends and impress on the pitch to show the players, staff and even myself why I deserved to be there".
Tollitt admits he enjoyed his time on the south coast and praised former boss and fellow scouser Paul Cook for the huge impact he has had on his career. 
"Paul Cook at Portsmouth signed me and gave me my big break and I can't thank him enough for that, he taught me so much on and off the pitch.
"It was a steep learning curve going there for me from the level I was at".
The attacker signed for Fylde in August 2020 and explained that he performs best when playing on the left wing and cutting in onto his favoured right foot.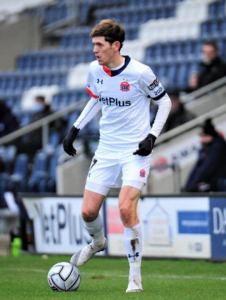 He revealed he took inspiration from Cristiano Ronaldo during his teenage years, but as a supporter of the current Premier League Champions, that was something he found difficult to admit. 
"As bad as it sounds with me being a Liverpool fan, Cristiano Ronaldo was my idol growing up. He plays in the same position as me and he likes to get people on the edge of their seat. 
"When he was at Manchester United, I thought 'wow I want to play how he plays' and tried growing up replicating whatever he did. I still do it now".
The number seven also revealed what Liverpool player he takes inspiration from. 
"Sadio Mane is unreal. The runs he makes, the one-twos around the box and all the rest there is too much to mention he's that good.
"I'm not saying I am like him, but I can only try to be and by watching him and trying to replicate him, I am only going to improve as a player."
The National League North and South are currently in the middle of a two week suspension of league fixtures amid discontent over funding. 
Featured image courtesy of instagram: @bentollitt