After their historic FA Cup run, that touted numerous media outlets to take a keen interest in the Crosby side, what sort of an impact has this coverage provided for Marine during the COVID-19 pandemic which has left a majority of lower league teams on the verge of extinction.
Reporter, Sam Carroll, has been covering non-league sport for various local media that has spanned from the Southport Visiter to, more recently, the Liverpool Echo. While Sam was familiar with covering grassroots action, he described the Marine FA Cup run as one of his most fondest experiences.
"The second round game against Havant and Waterlooville, I was only one of five or six people who went to that game from the media."
"I was there for the fifth preliminary round, where it all started, and I saw people crying in the stand when they beat Havant and Waterlooville because they knew what it meant for the club to get into the third round, not just in the normal times but in the difficult times we find ourselves in now."
"They knew that could potentially secure Marine's future for the next ten years. It was such an experience for me and overall it was just great to see people being interested in non-league."
"I had the hottest ticket in town with that Marine game and everyone was messaging me asking: 'How do you get tickets? How are you there?!' They wanted the Marine team news, what the lads worked as."
"This also gave the players a chance to be in the limelight and our work on Marine was read by hundreds upon thousands of people, compared to when Marine played Barnoldswick Town in the league this season, it's quite the change in figures of people who were interested in that game."
"For me the one that stood out on the journey was the victory over Colchester United away. I don't think many non-league teams in the eighth tier have beaten a league two team away from home before."
"Obviously getting drawn to play the team who were top of the Premier League at the time was something that might not ever happen again in non-league so it was a historic day."
"It didn't surprise me that the Echo wanted to go there and cover it, but it probably shows some people that it's almost worth keeping a foot in with non-league teams because if you have a contact with one of those local teams and a once in a lifetime game happens, it makes it more easier to set things up."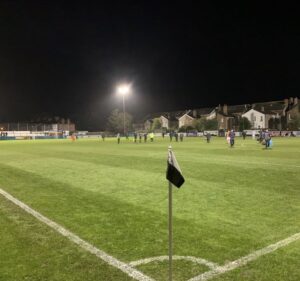 Sam spoke about the huge financial impact that such a run has provided for the Mariners and the long-term impact this will have on the clubs longevity.
"The FA release prize and television money for each round and from that alone that was over £200,000. People like Jamie Carragher and companies like JD Sports generously donated sponsorships and advertising for the Tottenham game."
"They wouldn't disclose the exact numbers but you've got to think it would be upwards of £500,000. In the world of non-league football and the eighth tier, considering they'll be having to pay bills for club houses and stadiums while there's no fans coming in, that supports a lot of that."
"Already Marine had seen the immediate boost before the Tottenham game. They signed the manager, Neil Young, to a three year contract. For a manager to be handed a multi-year contract is not something you see everyday in the lower tiers."
"Since that Spurs game, they've also got two or three players contracted to them. Obviously they won't be playing for Marine as their full-time career, but what it does mean is that whenever football comes back they've committed to Marine and if they're good enough to lead them to the third round of the FA Cup, then they should be capable of getting them back up the divisions that they had suffered past relegations from."
"People at the club have dreams of getting Marine up to the Conference North where the likes of Southport are which would be amazing for a city like Liverpool to have another club involved and competing at that level."
"People don't realise how much that money means and what it can go towards. There are teams that have come out of the water over the past few years like Rylands Warrington who are now owned by Paul Stretford, who was Wayne Rooney's agent, and he's taken them from playing Sunday League to one promotion from being in the same league as Marine."
"Money obviously talks and especially at that level so if you can sign the best available players and managers, you can very quickly move up through those leagues."
"The best thing about Marine is that they are a community based club and they will have loads of ideas of how to help people in Crosby. Stuff like helping the elderly people over to the stadium and bingo and mainly stuff that helps out desperate people in these times which will go a long way."
"As hard as the team worked to get there, a lot of people worked hard behind the scenes to make sure that the day against Tottenham was a big success which it was. Everyone came together to buy those virtual tickets which is another massive financial boost for them."
"The long term impact this has had on Marine is probably verging on indescribable at the moment."
(Photos courtesy of Emirates FA Cup and Paddy Allen).