Chris Doyle resigned from the Jaguars after one day
A strength and conditioning coach at the Jacksonville Jaguars has resigned from the organisation after one day amid accusations of racism in his coaching past.
Jaguars coach, Urban Meyer, said Doyle resigned and he accepted.
"Chris did not want to be a distraction to what we are building in Jacksonville."
"We are responsible for all aspects of our program and, in retrospect, should have given greater consideration to how his appointment may have affected all involved. We wish him the best as he moves forward in his career." per NFL sources.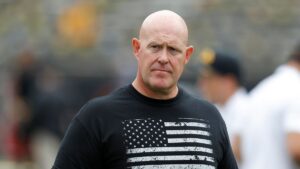 The Fritz Pollard Alliance, an organisation to help improve diversity in the NFL, tore apart Jacksonville's head staff and said the racist allegations at Iowa should have ruled out Doyle as coaching candidate.
The alliance released a statement on Saturday morning saying his actions at his previous club should have disqualified him from contention.
"At a time when the NFL has failed to solve its problem with racial hiring practices, it is simply unacceptable to welcome Chris Doyle into the ranks of NFL coaches."
"Doyle's departure from the University of Iowa reflected a tenure riddled with poor judgment and mistreatment of Black players. His conduct should be as disqualifying for the NFL as it was for University of Iowa."
Coach Meyer defended the choice of hire by vetting him alongside the general manager, Trent Baalke, and owner of the Jaguars Shad Khan.
"I've known Chris for close to 20 years,' reflects the good ol' boy network that is precisely the reason there is such a disparity in employment opportunities for Black coaches."
"I vetted him thoroughly along with our general manager and owner." Per NFL sources
52-year-old Doyle was previously at the Iowa Hawkeyes from 1999 to 2020.
He trained 180 student athletes who have joined professional teams as well as 19 former assistants who have become head strength and conditioning coaches.
On June 15th, 2020, the Iowa Hawkeyes announced that Doyle will no longer be coaching at the school. Previous to that he was the highest paid strength and conditioning coach in college football making $800,000 a year.
Under his separation agreement Iowa paid Doyle 15 months' salary which was just over $1.1 million.
Multiple former Iowa players spoke about the racial issues in the Iowa football programme and discussed incidents where Doyle allegedly made racist comments and belittled players.
Doyle denied the allegations. However, an outside law firm investigated Doyle and later found that the programme rules 'perpetuated racial and culture biases and diminished the value of cultural diversity.'
Coach Meyer said he did a very good job vetting Doyle's hire saying, "I feel great about the hire, about his expertise at that position."
"I vet everyone on our staff, and like I said, the relationship goes back close to 20 years and a lot of hard questions asked, a lot of vetting involved with all our staff. We did a very good job vetting that one." Per NFL sources
Coach Meyer also added that owner, Shad Khan, was involved with all of the "high-end hires", including Doyle.