Former Cage Warriors featherweight champion, Paddy 'The Baddy' Pimblett (15-3) returns to action against Italian, Davide Martinez (8-2) at Cage Warriors 122 'The Trilogy' on March 20th in London.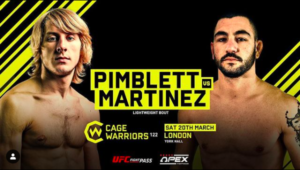 The 26-year-old Merseyside local fighting out of Liverpool city centre has links with the LJMU MMA society.
27-year-old Italian born Davide Martinez, nicknamed 'Ispanico', is currently on a six-win streak going into his fight with Pimblett.
Currently one of Europe's biggest draws outside of the UFC, Pimblett is ready to get back in the cage and show the world what he can do.
"I've never felt this good to be honest, my weight is lovely and low, I'm the fittest I've ever been, my striking is on point, my grappling is always on point, there is no where he can trouble me! I am going to beat him up everywhere the fight goes."
"I'm going to be signing off from Cage Warriors with a spectacular performance."
Pimblett was set to fight Martinez at Cage Warriors 113 on March 20th, 2020, but it was postponed due to the COVID-19 pandemic.
One year on, Paddy's confidence is as high as ever.
"Last year I was meant to fight him (Martinez) then 'Decky Dalton' stepped in and I finished him in the first round. This is going to be no different."
"I've had to sit out a year due to another surgery on my hand but now I feel fresher than ever."
"He (Martinez) has not got a chance! it's going to be a one-sided beat down."
Paddy has had two previous UFC contract offers but due to other arrangements and injuries wasn't able to sign. However, after March 20th, 'The Baddy' feels his call up is on the way.
"It's coming 100%. I'll win this fight with a spectacular knockout or submission in the first round. I'll be 16-3 then at 26, I'm not a child anymore, like when I turned down UFC."
"I haven't got any reoccurring injuries hanging over me. It's time for the world to know who 'The Baddy' is, even though most already do. It's time for me to take over."
With the UFC contract looming over the results of his latest fight, Pimblett wants to fight Jared Gordon to get revenge over his teammate.
"I'd like to fight Jared Gordon, just because he fought Chris Fishgold last, a teammate of mine, and he made our gym look stupid. I'd like to take that one back for our gym and finish Gordon."
Pimblett's plans for the UFC are slightly different to his Cage Warrior days as he wishes to drop down to UFC's Featherweight class.
"When I sign for the UFC, I'm going to get a Dexa scan to see if I can make Featherweight again."
"All those years ago when I was Featherweight, I was walking around heavier than I am now. I wasn't professional and I was out partying all the time."
Pimblett has grown up a lot since then and has his head screwed on right this time after a little battle with depression
"I wasn't screwed on back then; I didn't listen to anyone and I thought I knew best. I won world titles when I was 21 and I was a know-it-all."
"Now I've grown up and realised that you've got to listen to people around me. If it wasn't for them, I probably wouldn't be here after the little battle I had with depression a couple of years back."
Although he has yet to perform in the UFC, Paddy feels good about how he would match up against some of the household names within the promotion.
"I know I can beat lightweights and featherweights in the top 15. I've been watching them recently and they wouldn't even lace my boots."