Tom Aspinall has now broken into the UFC's top 15 heavyweights, following his impressive run of victories. The Team Kaobon fighter is currently ranked 14th.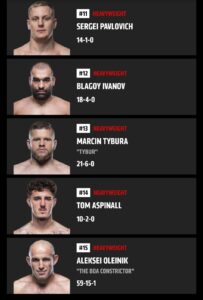 The Liverpool based fighter scored an impressive second round submission victory over UFC veteran Andre Arlovski two weeks ago.
However, the victory alone was not enough to boost the Salford-born brawler into the rankings, despite many fans expecting him to feature after the impressive showing.
The UFC's decision to release long-time heavyweights, Junior Dos Santos and Alistair Overeem, created the space for Aspinall to further climb the rankings.
Despite the circumstances, Aspinall will be keen to show that he belongs in the rankings and will continue to push for a big fight in the future.
Aspinall's inclusion means that there are now 6 British Athletes in the Top 15 of various weight classes in the UFC, including teammates and Liverpool native Darren Till, who is scheduled to face Marvin Vettori at the beginning of next month.
Prior to Dos Santos' release, Aspinall had expressed interest in facing the former champ to prove himself worthy of facing the top of the division.
Aspinall's inclusion in the top 15 may cause him to set his sights higher than Dos Santos, who was ranked 12th at the time of his release and aim for top ten opposition.
Photo credits- Tom Aspinall Instagram + UFC