Content warning: this article contains reference to poor mental health, drug abuse and suicidal ideation.
When you think of mental health treatment and support, an astroturf pitch in Netherton may not be the first setting you imagine. But that's exactly where Colin Dolan, founder of Liverpool Football Therapy, runs sessions for over 80 adults affected by mental illness each week.
5-a-side football may not be the most obvious form of therapy, but exercise is widely recognised as an effective tool in dealing with poor mental health. In 2010 the Mental Health Foundation said that for adults with depression, studies have shown that "exercise can be as effective as medication or psychotherapy."
Liverpool Football Therapy shows this effect in action. 
"With football, the four key areas that we focus on and where we help see an improvement is the physical, the mental, the emotional, and the social well-being," Dolan explains. "On the emotional side, it just makes people feel happy that they've been mixing with other people, they've got a bit of exercise.
"They enjoy the football side of it, regardless of their ability. They all enjoy doing a little bit on the pitch. Some of them are doing some fantastic tricks because they're fantastic football players as well. Others, they manage to get a good tackle or score the odd goal. They are absolutely delighted.
"At the end of every session, everyone walks away with a smile on their face."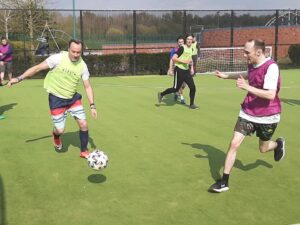 Humble beginnings
Colin Dolan started Liverpool Football Therapy in 2019 after experiencing first-hand how beneficial football can be in improving mental health. Dolan, who has bipolar disorder, participated in the Everton in the Community's Imagine Your Goals scheme after a particularly poor period of mental health ten years ago left him suicidal and twice hospitalised. 
In collaboration with Mersey Care, Imagine Your Goals uses football to support the treatment and recovery of adults affected by mental ill health in Merseyside. 
"I was hesitant about joining this particular programme, but once I joined, it just completely transformed my life," Dolan says. "Beforehand, I was a heavy drinker, I abused cocaine, I was ill. I was masking all the issues that I had. But what football gave to me was it gave me my confidence back. It was about stepping onto the pitch and concentrating on football and all the bad thoughts just disappeared."
However, with Imagine Your Goals only accessible to those receiving treatment through Mersey Care, Dolan saw a gap in blind spot in provision.
"There are obviously a lot more people that have mental health issues, diagnosed or undiagnosed, who don't get support through Mersey Care," he explains. "So I knew there was a part of the community that wasn't getting access to the Everton programme, and those were the people I was targeting to help."
To this end, Liverpool Football Therapy do not ask for a referral or diagnosis for participants to join. Part of this comes from the understanding that getting a diagnosis through the NHS can be a long and difficult process, but also it is based on the belief that early intervention is key.
"Because we have people who are diagnosed and undiagnosed, it means that we are catching people early," Dolan explains. "If someone's feeling a little bit depressed, they're not sure what's going on, once they come and talk to us hopefully it won't get worse."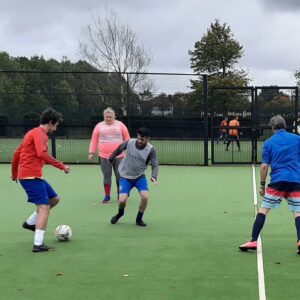 The effects of lockdown
Like all sports clubs, Liverpool Football Therapy's normal activity was cancelled under lockdown, but they were doubly hit in that many of their participants were suffering more than ever in the pandemic.
"The lockdown affected us pretty badly, and it affected a number of participants really badly," Dolan says. "We had a couple of suicide attempts. We've had a huge number of people starting to get suicidal thoughts and feeling very lonely and living in fear of what was going on in the world."
Dolan made himself available for support seven days a week and the players kept their support networks going virtually, but they were always looking to get back to the pitch.
When grassroots football was finally given the green light to return at the end of March, their weekly sessions had an influx of new participants as the mental health impact of the pandemic became clear.
"We're only in our third week and we've had 29 new participants," Dolan says. "That shows you the effect that lockdown had on a lot of people, some of whom had never experienced any mental ill-health previously."
For their existing members, Dolan reports some anxiety about coming back out of lockdown, but overall everyone has been keen to get back to playing and supporting each other on and off the pitch.
"The whole ethos of it is very much peer-led," Dolan says. "We strongly believe that the best people for advice and the best form of support is peer support."
"In my opinion, it's down to being around people who are also on a mental health journey, and able to be open and talk about what's going at the side of the pitch. That's just as important, what the lads and the girls are doing off the pitch. They are constantly talking and supporting each other."
While Dolan knows they can't completely solve everyone's problems, he hopes to help people to recover by pointing them towards professional help and giving them the tools to cope with their conditions in the long-term
"The goal will be that you'll learn to cope with your condition, rather than think it's the end of the world or that you're never going to get well. If you learn to cope, that will give you some hope."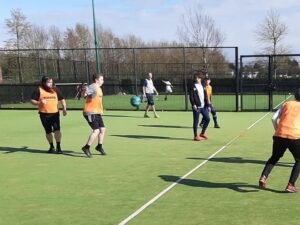 Next steps
The next step for Colin Dolan is looking for funding Liverpool Football Therapy can continue to provide help and support for their participants. Dolan asks a small contribution from members to cover pitch costs, but funds the vast majority of the £13,000 annual running costs by donations, occasional sponsorship, and out of his own pocket. 
With more participants than ever, Dolan wants to expand the scheme to meet the demand for extra support created by the pandemic. Though money may be a limiting factor right now, it's clear Dolan's passion for helping people through football has not been dampened.
"Joining Imagine Your Goals saved my life. There's no doubt about it. So now I want to give back using those tools that saved my life," he explains.
"I want to use football as a catalyst to ensure that we save people's lives. If I can save one person from suicide, then it's all been worthwhile."
Find out more about Liverpool Football Therapy and support the project on Facebook and Twitter.