With the 2021 Formula 1 season now well underway, fans have already set their early season predictions in motion.
Some see Red Bull driver Max Verstappen as an early contender to challenge Mercedes' Lewis Hamilton for the World Championship.
Verstappen first burst onto the scene in 2015 at the Australian Grand Prix, where he became the youngest driver in the history of Formula 1 at just 17 years of age, before signing with Red Bull Racing a year later winning the 2016 Spanish GP in his Red Bull debut.
Verstappen would go on to win the FIA Rookie of the Year, finishing 5th overall in the process.
Verstappen's first top three season finish came in 2019 and would follow up with another top three finish the following season.
After Honda's withdrawal as an entity, Red Bull have now maintained Honda's engines and in such, it has potentially allowed Verstappen to grow into an early championship contender yet again.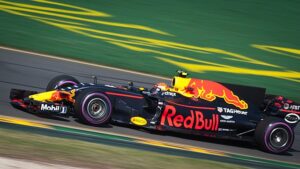 In the opening Bahrain GP, Verstappen finished runner-up only +0.745 seconds behind Mercedes driver and seven time champion, Lewis Hamilton who ended the race with a time of 1 hour 32 minutes and 03.897 seconds.
Verstappen would start the race in pole position after finishing first in the Qualifying with Hamilton and his Mercedes teammate Valtteri Bottas all making up the top three, while Verstappen's Red Bull teammate Sergio Perez could only manage an 11th place start in the GP, finishing fifth at the end of the race.
Ahead of the Emilia Romagna GP in Italy, Hamilton topped the standings in Qualifying with Verstappen and his teammate Perez both finishing inside the top three as Bottas slumped down to eighth.
The GP saw Bottas handed a DNF after a terrifying collision with Williams Mercedes driver, George Russell, that left both drivers thankfully unhurt.
Red Bull teammate, Sergio Perez also struggled and despite earning a top three starting spot for the race, Perez ended the GP in a disappointing 12th placed finish after a late incident that saw Perez drift off the track and into the gravel, plummeting him down from fourth place to 14th in the 38th of 63 laps.
Up front, Verstappen cruised to a comfortable first place finish ahead of Hamilton with the Red Bull racer ending the GP with a time of 2 hours 02 minutes and 34.598 seconds.
Hamilton finished second, +22.000 seconds behind Verstappen and 1.702 seconds ahead of third placed McLaren Mercedes driver, Lando Norris.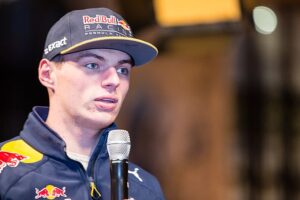 Despite Norris earning the majority of fan voting for the F1 Driver of the Day with 32.3% of votes, Verstappen ranked second with 15.5% of votes after his decisive and conclusive racing display.
Drivers now look ahead to the upcoming Spanish Grand Prix on the ninth of May, and despite the season still being in its very early stages, fans will remain very intrigued on Verstappen's developments and whether he is able to repeat his sublime performance in Italy for the remainder of the season.
Featured Image: Wiki Commons – Author: Morio