Thiago Alcantara has said he made the right choice in moving to Liverpool 14 months ago.
In recent weeks, rumours linking him with a move back to Barcelona have been circulating.
But Thiago himself shot these rumours down today ahead of Liverpool's Champions League home clash with Porto tomorrow night.
He said: "As I always am, I am a guy that plays football. I am not concerned about the rumors.
"I am focused on the duty that I have with my team.
"The years left on the contract that I have with my team, I just want to know about this new adventure I have here in the Premier League trying to win all the trophies that I can."
Thiago has won the Champions League twice in his career, with Bayern Munich and Barcelona along with countless other trophies.
It is clear to see since his switch to Merseyside his hunger for trophies has not diminished.
Thiago demonstrated the similarities between his former sides and how this Liverpool team compare to them.
"Well first of all I have had good luck to play with such good football players and brilliant teams.
"They play in different ways, not just teams but the years that I played in each team they played differently.
"I remember with Pep, with Ancelotti, with Tito Vilanova, Hansi Flick at the end was different.
"They were successful teams I think every year, with amazing players, the difference is how far you can go in the European League and also how the team performs in every game.
"We were dominant in both teams (Bayern and Barcelona) and it happened a little bit the same here with Liverpool.
"I came into a team that already won a lot."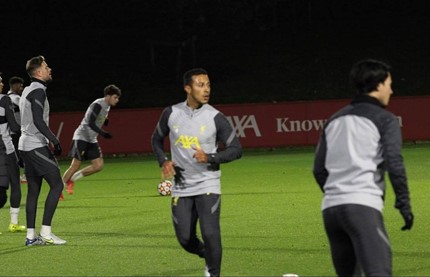 Thiago's debut season at Anfield was one to forget.
Empty stadia due to Covid and an injury crisis dealt a huge blow to the Reds who were unable to replicate the success of the previous two years.
Perhaps the struggles of last season will drive the hunger of this Liverpool team to more success this year round.
"Well, first of all we try to avoid all injuries with hard work and also with our daily routines.
"We change some things to make that not happen but at the end, it is part of our job as well."
"The most important thing is to be fit and ready for the team when you are.
"I think the game against Arsenal was a boost of energy for us to keep making and having our game in front of our crowd."
"We try to win all the games we can" – Thiago declared.
Watch Liverpool training (below) as they prepare to host Porto at Anfield tomorrow (November 24).