A Liverpool grassroots club captain has called for more community clubs to install life-saving defibrillators at their facilities.
Daniel Scott, captain of Princes Park Rangers who compete in the Liverpool Business Houses, spoke about the importance of defibrillators in grassroots football.
He told Merseysportlive: "Defibrillators are very important medical equipment and can save lives.
"After what happened to Eriksen (at Euro 2020), I believe we should have them at every football pitch that is host to games."
The Liverpool Business Houses Football League has been described by Scally Mag as "the best amateur league in England".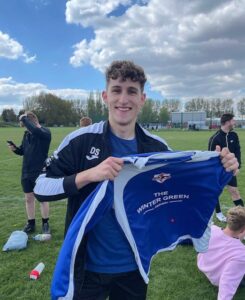 Peter Morton, Chairman of the LBHFL, said: "With over 80 teams, involving more than 1,700 players, we believe this will be seen as one of the best Sunday leagues in England offering appropriate levels of competitive football at venues across the city of Liverpool and beyond."
With the scale and competitiveness of amateur football in Merseyside, Scott argues defibrillators must be installed at as many community clubs as possible.
"There are six divisions in the Business Houses and with so many players, it's only a matter of time before they're needed," said the PPR captain.
"Some referees in our league are into their 60s and 70s, so they are also at risk and should be considered."
The FA in partnership with the Premier League have supported the Football Foundation 'Defibrillator Fund' which will benefit over 2,000 grassroot football sites.
This benefit can already be seen in Merseyside.
Recently, a defibrillator has been provided to AFC Knowsley by the Premier League.
Great news we have now installed a defibrillator on the side of the pavilion for any public access. Hopefully we will never ever have to use it, but it's reassuring it's there. Full instructions are on the cabinet.

We have the CCTV firmly focused in on it 👀👀

— AFC Knowsley (@afc_knowsley) March 4, 2022
AFC Knowsley are the current Cheshire League 1st Division Champions and have teams from under 7s through to open age.
Defibrillators, if needed, provide the necessary facilities to save lives at grassroots football games.
The events of Denmark vs Finland at Euro 2020 have shone a spotlight on cardiovascular health problems in the world of football.
In the game on June 12 2021, Denmark midfielder Cristian Eriksen collapsed on the pitch having suffered a cardiac arrest.
He was given CPR, and an Automated External Defibrillator which reset his heart and allowed it to pump blood through his body again, saving his life.
Most recently, a Liverpool fan in his 60s died after falling ill prior to their Champions League clash with Benfica at Anfield.
With action being taken at AFC Knowsley, hopefully more clubs are set to follow their example.
(Featured image by Danrok, Creative Commons Attribution-Share Alike 4.0)