A Merseyside Dragon Boating club is the most decorated of its kind in the UK having amassed 13 national titles.
And Amathus Dragon Boat Club, founded in 1998 by David Bangs, is helping the sport become one of the fastest growing watersports in the world.
It sees up to 22 paddlers in one boat working together.
Mr Bangs said: "The name [Amathus] is now synonymous with success in dragon boating.
"We have a very high record of wins in all sorts of significant races."
Amathus welcomes paddlers of all ages and abilities.
Mr Bangs says the inclusivity of dragon boating is why it is becoming so popular around the globe.
He said: "It's a sport which offers the ability for any person to follow what we call the Amathus pathway, which is to go wherever they want to within dragon boating.
"They can be social paddlers and just turn up to club sessions, or we can teach them to go right the way through and represent their country as well.
"We always find a way to get people involved, and we always find them a place within a team."
Olympic Future?
At the Tokyo 2020 Olympics, a dragon boat race was held as a demonstration before the final canoe race.
However, the sport itself is yet to feature at the competition.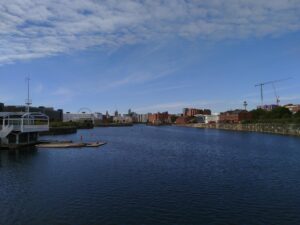 Mr Bangs said: "We've been working to go with the IOC (International Olympic Committee) for many years now.
"The problem we've got is that we are all privately funded.
"There's no money from any outside agency in dragon boating.
"We can't get the money we need to get television time.
"To fill the Olympic criteria we've got to have a men's team and a women's team.
"That means a British team would be 44 people. That's the biggest hurdle we've been trying to get over.
"They're looking at the moment into smaller boats with smaller numbers of people and we may find that that's an acceptable route through."
Amathus Dragon Boat Club operates at Liverpool Water Sports Centre at Queens Dock, with sessions on Tuesdays and Thursdays at 6pm and Sundays at 9.30am.
You can book your free trial through their website: https://amathusdbc.org/