University of Liverpool Women came from a goal down to win 2-1 against league leaders Newcastle Women tonight (February 8).
The first half ended 0-0. Both teams had chances to take the lead but lacked any real quality in front of goal.
The second half began with Newcastle on top.
Liverpool found it hard to get out of their own half and Newcastle capitalised by opening the scoring in the 64th minute.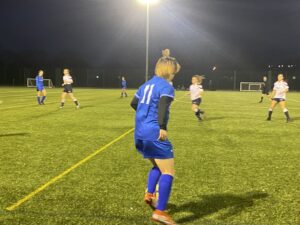 A well-worked goal down the left hand was put away by the Newcastle midfielder on the edge of the box.
The ball was always curling away from Natassia Von Bargen in the Liverpool goal.
Despite being on the back foot, Liverpool found an equaliser through Hanna Ryan.
It was a brilliant strike from just outside the area in the 67th minute.
Liverpool then found the winner in the 75th minute through forward Grace Mills with another great strike from outside the box.
Liverpool now move joint top, level on points with Newcastle, Sheffield Hallam and Leeds but remain fourth in the league.
Liverpool coach Giltan Zem Baptiste told Merseysportlive: "When we conceded that goal, it woke us up.
"It shows that our mentality is absolutely spot on."
Liverpool were without top scorer Olivia Atkinson who missed the match with a knee injury.
Baptiste added: "It might be a meniscus injury with how she described it but hopefully it's not too bad.
"She's seeing the physio today so then I'll know more."
See the full interview on our Twitter page – @merseysportlive