Gary Davey came through an 89 person field to seal the 16th and final Riley's UK Open qualifying spot in Liverpool.
He joins Jim Moston who qualified for the UK Open at Liverpool Riley's Qualifier on January 22.
The Lancashire captain beat former UK Open participant Joey Palfreyman 5-4 in a tense final and survived one match dart.
Davey told Merseysportlive: "I came with no expectation.
"I thought I had an outside chance but to get there [to the UK Open] is a massive dream."
🗣️ @BenIzzard_95 spoke to Liverpool @ClubRileys UK Open Qualifier winner Gary Davey. He beat Joey Palfreyman 5-4 in a dramatic final pic.twitter.com/I72tPUK0so

— MerseySportLive (@merseysportlive) February 19, 2023
Davey failed to qualify at Chester's qualifier on Saturday (February 18) and started the day with a tough draw against former PDC tour card holder Peter Hudson.
He defeated seven opponents to secure his UK Open debut in Minehead on March 3.
Davey previously competed in the WDF World Masters in 2019.
Palfreyman made it to the final with a 4-3 victory over Declan Miller in a feisty semi-final.
Miller suffers from dartitus – a psychological condition which affects the release of a dart – and was unhappy with comments made by Palfreyman and his supporters during the match.
At 2-2, Palfreyman left the oche for a "time-out" and Miller called for the tournament director.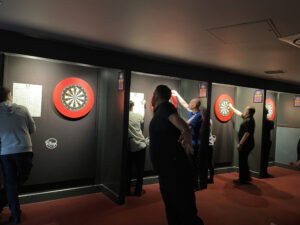 The match resumed and Miller missed match darts before succumbing to a 4-3 defeat.
Other notable names in the event included former PDC tour card holder Nathan Derry and 2023 PDC Challenge Tour competitor Robert Grundy.
The 2023 Cazoo PDC UK Open takes place between March 3-5 at Butlins, Minehead.
You can watch the action on ITV4 and pdc.tv.
(Featured Image with permission from Connor Cain)