About a third of the Women's Super League season remains, and Liverpool and Everton will be looking to pick up as many points as possible as the season starts to come to a close.
Liverpool are playing their first season back in the WSL after promotion from the Women's Championship last season.
They have had a respectable campaign so far, currently sitting eighth in the table on 14 points with four wins. They are seven points off the relegation zone.
Everton have won two games more than their rivals and sit sixth in the table with 20 points.
The next game for the two teams will be the Merseyside derby, being played at Goodison Park for the first time in the WSL.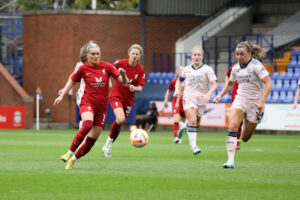 After that, each team will play seven more games before the end of the season.
Liverpool's run in sees them host Brighton, Manchester City, Aston Villa and Manchester United at Prenton Park.
The Reds will also travel to West Ham, Leicester and Chelsea.
Everton will face Tottenham, Arsenal and Brighton at Walton Hall Park, with the Blues travelling to Brighton, Reading, Chelsea and Manchester City.
In the reverse fixtures of their remaining eight ties, Liverpool have only picked up seven points from a possible 24.
Everton have picked up nine from 18, half of the points available from those games.
Both teams must face three teams in the top four.
Liverpool beat first placed Chelsea 2-1 in their opening match of their campaign, whereas Everton haven't picked up any points in their matches against their remaining top four opposition.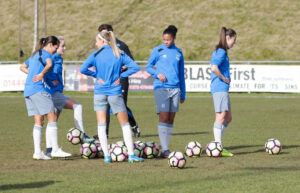 Another concern for both teams will be their form in front of goal.
Liverpool have only scored 15 goals this season, with only bottom placed Leicester scoring less.
Everton have scored 16 goals, only one more than Liverpool and the same amount as 11th placed Brighton and ninth placed Reading.
However, Everton's record at the back is strong.
They have only conceded fourteen goals in the WSL all season with only Chelsea, Manchester United and Arsenal conceding less.
They have kept seven clean sheets, with only Arsenal and Manchester United keeping more.
On the other hand, Liverpool have conceded 26 goals and kept only two clean sheets. Only four teams have conceded more than the Reds, and only three have less clean sheets.
Liverpool will be hoping they have done enough to avoid relegation back down to the Championship.
For Everton, top three and European football is highly unlikely. They sit 15 points away from third placed Manchester City, although they do have a game in hand over the Citizens.
Even if the Blues win their game in hand, it is likely that a 12 point deficit will still prove too many.
Featured image credit: Hana Basir (Free to Use)