Eighteen months ago, like many in Liverpool Kieran Mooney was just keen on keeping fit. Now, he is a three times champion of a novel new multi indoor gym event and a fully qualified personal trainer.
Through years of dedication and competing in events, the Belle Vale resident has the ability to coach other aspiring athletes helping improve physical strength, and crucially  difference to their lives.
The 20-year-old recently completed his third Hyrox event of the year, a pushing the boundaries of fitness and determination.
Hyrox is a circuit-based indoor event that tests stamina, strength and speed. It consists of a 1km run and one form of functional movement, repeated eight times over. For hybrid athletes across the country, it is one of the highlights of the fitness year.
A strict training regime in his local Belle Vale gym has got him to where he is today.
It took Mooney a while to realise what he was best at, but he pinpoints summer of 2021 as a time when he recognised his potential:
"I looked back at all the sports I've done and thought to myself, I've worked hard at all of those sports, why didn't I reach the elite level in any of them?"
He then discovered the world of CrossFit, a form of high intensity interval training and soon realised he had found his niche, putting his skills and dedication to the best use. His attitude was never in question, but pushing himself further saw him reap the rewards.
Competitive development came through signing up for his first Hyrox.
"Waiting on that start line gave me the best rush of adrenaline and the feeling it gave me made me realise this is my sport. Functional Fitness is what I'm good at."
Kieran successfully finished the race and was inspired to keep his journey moving forward. It was at this point when he began his own personal training programme:
"I saw that people were struggling as their comfort zone and life was taken away from them, but as I was able to sustain lifestyle throughout, I wanted to help other people do the same throughout their lives."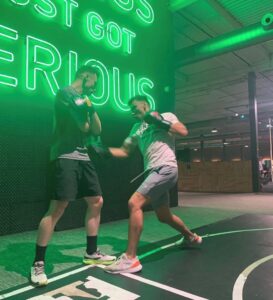 Mooney now has a personal training account on Instagram to engage with fellow athletes and provide services to the people of Liverpool.
Through Social Media, he is able to connect with keen fitness enthusiasts in the city.
He hopes that this passion of his will help him reach his end goal of being a firefighter, a childhood career dream: "Doing it will enable me to maintain the level of training I do now and the shift patterns will also allow me to remain as an online coach."
With his future job requiring more dedication, maintaining a personal training role is a testament to his character. Soon after finishing an impressive third Hyrox in Glasgow, future plans were already under way: "Within a week I set a new goal which is to complete an IronMan triathlon before my 22nd birthday next year. Competition keeps me visioned and highlights new areas to work on"
His father was a professional footballer and his brother is currently a goalkeeper at Wigan Athletic, hard-work and commitment runs through the family.