Liverpool FA has distributed tickets for the WSL Merseyside Derby to grassroots football clubs as they continue to raise the profile of the women's game.
Friday's derby (March 24) is a good opportunity for young aspiring players to watch a huge competitive game live in person.
Liverpool FA were granted 6,000 tickets to watch the reverse fixture at Anfield in September and are delighted to receive 3,000 for the Goodison Park match.
Ellie Fox, the Football Development Officer for female football in Merseyside, explained the impact that these huge matches have in raising the profile for women's football:
She said: "It's absolutely fantastic to be able to show these young players that there is a pathway for them to reach that level if that's what they desire to do.
"And I think it's really good that the likes of the Lionesses are selling out stadiums like Wembley and having that family-orientated approach as well. It's very different to male football in regards to that family side and it being friendly and safe for kids to attend.
"These opportunities that we're able to provide to young girls at grassroots level is really important."
MERSEYSIDE DERBY 🎟 | @EvertonWomen have offered 3,000 tickets to grassroots clubs for the WSL match between #Everton and #Liverpool at Goodison Park later this month. 🙌

Find out how you can get yours 👇https://t.co/89f7CfnB8v

Tickets available until 23:59 on Thursday ⏱ pic.twitter.com/W4zNsnnsCr

— Liverpool County FA (@Liverpool_CFA) March 15, 2023
As the WSL continues to grow and with the women's World Cup kicking off in July, the expansion of the female game will continue to boom. Liverpool FA are looking to carry on using these big games and tournaments to propel participation in Merseyside and encourage as many people to get involved in the sport as possible.
Said Fox: "It's had a massive impact on girl's football, and even though it has been developing over the last 10 years, it's drastically inclined because of the Euros and I think the World Cup will only do the same again."
Prenton Park welcomed the U23s Lionesses for an international friendly against Belgium last month. The WU23 impressively beat the Belgians 4-1 in front of a Merseyside crowd in their last bid to try and get into the Lionesses squad ahead of the World Cup in Australia and New Zealand.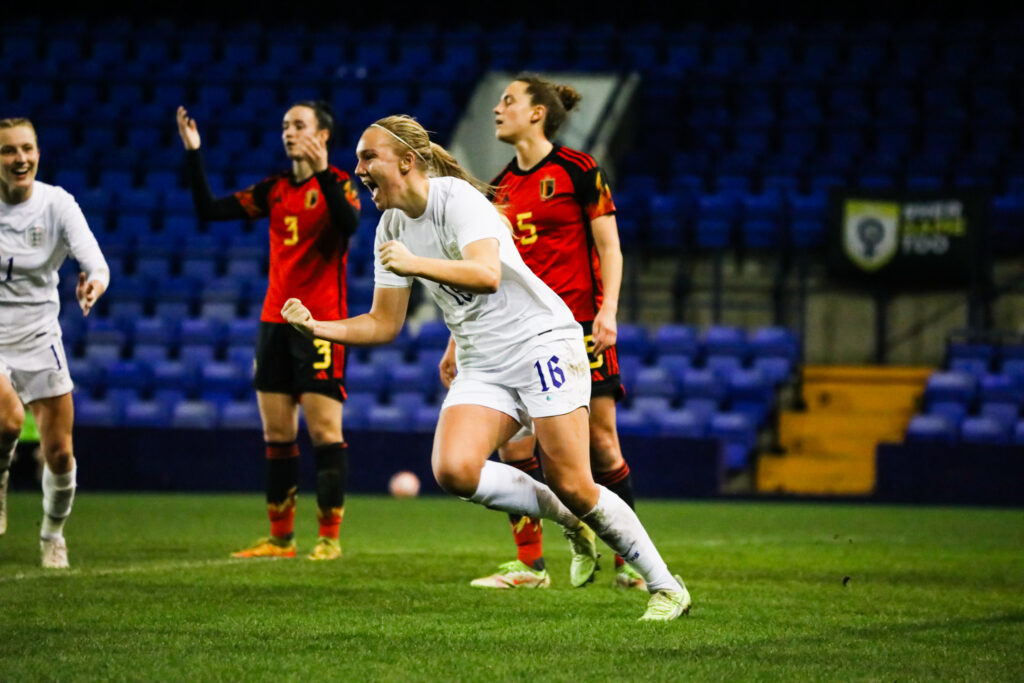 England Football Accredited offered local clubs and schools the chance to win up to 10 complimentary tickets to watch the future of the Lionesses at the home of Tranmere Rovers and Liverpool women.
EFA aim to inspire the younger generation and bring communities together by supporting leagues and clubs up and down the country.
The Lionesses have played a huge part in inspiring girls and ladies across the country to get involved in football, following their huge success in winning the Euros last summer.
"The Euros has had a massive impact and now that young girls and ladies are seeing the success that they've had, it's now available to see in real life [Prenton Park] whereas before it was very much not seen and only could be accessed on the T.V," said Fox.
"Now it's very publicised, very out there and it's really important because if you can see someone doing it themselves then it allows you to think 'Actually it means I can do it as well' and it gives them that encouragement and allows them to see themselves in the Lionesses.
"It gives them that reassurance and it's really encouraging how we're getting them in the bigger stadiums as well."
Added Fox: "I think there will be a massive increase again and we've already hit our target for female participation and now we're getting more male only clubs wanting to provide female provisions."
We're committed to increasing participation in football across all of the communities the game serves 👊

That's why we're offering fully funded places on our Introduction to Coaching Football course.

Interested? Apply now 👇https://t.co/fcqmfIaz4V pic.twitter.com/8e7mVO2nvw

— Liverpool County FA (@Liverpool_CFA) March 17, 2023
There are currently 51 different Wildcats sessions being run across Merseyside, allowing girls aged 5-11 to get involved with some non-competitive football, allowing them to have fun, develop their skills and build friendships, all whilst keeping active.
"As an FA we are ensuring that we provide a full female pathway from when they are in school right through out to grassroots football," said Fox.
"From there, they can progress into other leagues and other tiers and potentially into the WSL if that's what they want to do, and ensuring that option is there for them and not just for the males because it's an equal access sport.
"That's something we've really pushed on because it's really important, especially in Merseyside which is a massive footballing city, it's so important that we provide as many girls as we can that equal access to football."
All additional information can be found on the Liverpool FA website.