Imagine the strength it takes to go on lonely runs in the freezing rain at 5am. As thousands of people near the end of their gruelling training plans for next month's London Marathon, Nicky Barker-King from Allerton, shares her experiences of preparing for and completing the world famous race.
This year's London Marathon takes place on Sunday 23 April and is the 43rd edition of the event, with over 40,000 people expected to take part. It will be the first time the race will be held in the spring since 2019, with the last three events taking place in October due to the COVID-19 pandemic.
For the first time ever, competitors will be able to register as non-binary for the event and a virtual marathon will also be held the same day.
Liverpool runner Barker-King participated in the event in 2017 for the Heads Together campaign in order to raise money for mental health, which she feels is very personal to her.
"Going out and running is really good for my mental health. I feel like I need it now. It gives me that little bit of space," she said.
She ran the full 26 miles and believes she owes her thanks to running in tackling her own mental barriers.
"I was having really bad panic attacks about my health but running helped me get back up," she revealed.
"I want to help other people tackle their demons through running because I used to be where many people are now."
The Liverpudlian was rather new to the running scene, only starting a couple years prior to taking on the famous event.
"You don't know what to expect so you don't know how it's gonna be," she said.
"So I looked online for all sorts of different training plans and so I chose a training plan that was specifically for women and I basically decided how long I thought it was gonna take me based on my five and 10k times."
Barker-King was careful in her planning, researching as much detail as possible. This gave her the perfect platform to set herself goals in order to break down this massive task in her head.
She said: "I wanted to finish it within five and a half hours. That was my plan. Once you start training, you almost train to that time as opposed to train and then see how fast you can do it. So all my training was set to a five-and-a-half-hour finish time.
"I basically planned it all out in a diary. I wrote down every single run I did. I did a bit of strength at home as well. It's not advisable to run a marathon without doing anything else but run."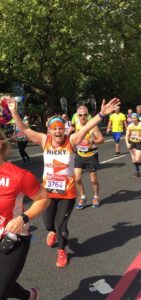 While Barker-King made every effort to ensure her planning was as good as it could be, there were challenges.
Being a hospital nurse, the 50-year-old's job requires her to travel all over the country, which made it difficult to stick to her training routine.
"At the time I was away on business and that was quite challenging because if I was away on business I needed to know where I could go.
"As a runner you know your routes and you know your distances so working out different routes was quite challenging."
With the Marathon being in April, thousands of runners train through the winter. Barker-King was no different, with the brutal weather being another hurdle in her path. However, her discipline and focus got her through it.
"I started training in December and that's all through winter so that's really tough. It was very cold," she said.
"You'd do a long run every week and that was in between 10-20 miles. So I would get up and go out at about 5:00am to get it out the way early.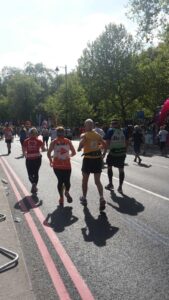 "I was quite disciplined in the way I trained. I'd get, have breakfast, wait 40 minutes then go out. Then it's working out your nutrition while you're running that far. You can't just go out and run it you've got to work out your hydration and nutrition."
Barker-King's determined attitude was key to completing her vigorous conditioning. It was all worth it in the end as her hard work paid off on the big day as she raced towards the finish line.
"By the time I was on the finish line I had trained to the letter. There wasn't anything I had missed out. I knew exactly what I was gonna do and exactly what I wasn't gonna do.
"These marathons are all sponsored by different people and they're all trying to give you different drinks. You can't do that because if you've not had those drinks they're gonna make you ill.
"So I was absolutely on it. Didn't even stop for the toilet I just ran the whole thing."
The runner defeated all obstacles in her path to get over the line, but claims the mental battles are far tougher than the physical.
"It's a complete mental game," she said. "You have to train your head to run that far as well as your body. Your mind will break way before your body will.
"When I started to get tired I taught myself to understand my body and what it wanted. Was I tired or hurting? If I was tired, I'd slow down. If I was hurting do I need a gel or anything like that? I learnt to coach myself through it."
"The experience was incredible. One of the best days of my life."
While training certainly helps when partaking in such a massive event, it does not completely prepare you for what's to come according to the marathon star.
She said: "The whole race is different because the first time I ran it you don't run the full distance. My longest run was 20 miles. Some people go up to 22. I didn't I went to 20 and I think that was enough.
"When you get to that 20-mile point, that was the hardest part because you don't know if you can do it. You have to break it up in your head and look at it at only being another 10k."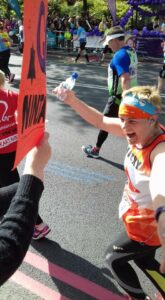 Barker-King's mental strategy paid off in her performance as she crossed the chequered line. However, she once again reiterates that those last six miles of the 26 mile race are nothing compared to the months of strict training.
"Training is much harder because you're running five to six times a week. You're running between 30 and 50 miles in a week. The day is almost like a lack of honour."
"When you're training and it's 5:00am and it's freezing and raining and no one's cheering you on, it's tough. People say the crowd carry you, the first twelve miles are great but when you're really tired you just don't want to hear it."
Barker-King made sure her mental and physical health were at their peaks on the day and throughout her training programme.
Just as important was her nutrition and diet plan which she once again had to learn all herself as she went along, which caused issues as the event date drew closer.
"Because I hadn't done it before, you have to work out what works for you.
"I did a week where I ran 16 miles, up from 14 miles from the previous week. I became really ill afterwards, almost flu like symptoms and I found out I had runners flu."
It taught the runner a valuable lesson to keep yourself nourished and hydrated at all time when training. Discipline is arguably the most important factor to success when running, even when it comes to things you don't want to eat or do.
"It's learning to refuel your body. It's not necessarily fuel in before the run, it's fuelling afterwards because your body just crashes.
"I only eat jelly babies when I run. I don't eat when I run because I find it very difficult."
"I'd eat a lot more protein and carbohydrates than I'd eat normally such as protein shakes, fish and pasta which I didn't really like but you have to do it."