University of Liverpool Futsal Club are a win away from the BUCS Premier Division after a 5-2 win over Edinburgh.
For captain Harrison Jackson, achieving promotion is the 'end goal'.
He said: "The step up would be massive.
"It'll be an amazing sporting experience for each individual that comes through the club."
Since its first competitive fixtures in 2017/18, the club have risen through the university leagues.
They gained back to back promotions in 2019/20 and 2021/22 to reach the Northern 1A division.
With more than 150 players trialling in each of the last two years, its growing quickly.
In September, it became one of five University of Liverpool AU clubs to earn performance status.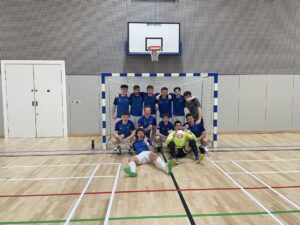 It meant an increased budget, access to a strength & conditioning programme and sessions with a sports psychologist.
In February, a third consecutive league title was confirmed and April's play-offs beckoned.
Joining them in a three-way round robin were Midlands and Scottish 1A winners Derby and Edinburgh.
With Derby running out 7-3 winners against Edinburgh in March, victory over the Scots would put Liverpool one win away from the top division of British collegiate futsal.
A hat-trick from Jackson and goals from Lucas Robson and James Kind set up a winner takes all play-off final against Derby on April 30.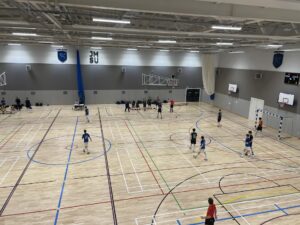 Club captain Matt Richardson and former England under-19 international Liam Hunt both play for Derby Futsal Club in Tier 2 of the National Futsal Series.
"They have players who are experienced at a high level, exposed to NFS for several years and a current England under-19s goalkeeper," said Jackson.
"The challenge for many of our team will be how they cope with these experienced players.
"We have a few who could certainly step up next year and start playing NFS."
Derby were unbeaten across 10 league games, drawing just once and scoring 94 goals.
But that won't phase Liverpool, who boast an identical league record, scoring 73 goals and conceding just 26.
"It's not a worry for us. Our defence is probably our strongest point.
"I imagine they will score at some point.
"And that's something you have to prepare for in the game and know how to manage mentally as a team."
Jackson represents Bolton Futsal Club in Tier 1 of the NFS while Joe Ryan, head coach since 2018, is on the Bolton coaching staff.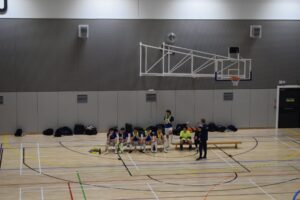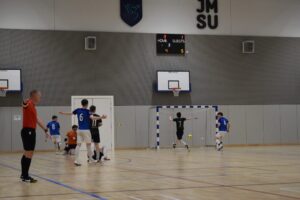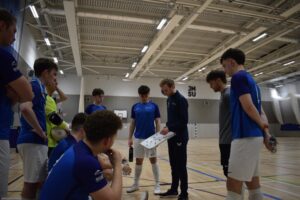 On preparations, Jackson stresses the importance of intensity and core principles,
"Nothing too tactical will be added onto what we are already doing. You don't want to overload coming into that final game."
Should they get over the line against Derby, the Premier Division would mean "full size courts with proper refs, and proper clubs who are playing proper futsal".
"It would push a lot of people into thinking about progressing their futsal career after Uni. I think it would be massive for that."