In a city renowned for its welcoming nature, the Liverpool Yacht Club prides itself on its encouraging and inclusive community. 
The club, who regularly sail out of the Liverpool Marina in Coburg Dock, adopts a competitive but family-oriented approach as it continues to offer unique experiences for all involved. 
It hosted its "Easter Bunny Race N' Bake" recently, one of many seasonal events put on throughout the year. 
Nichola Murphy was voted in as Vice Commodore in February and describes the forward-thinking approach which has seen the club grow from strength-to-strength.
"Anytime during the festive period we tend to a have a little novel race and through the summer we do things like family weekends.
"For example, at Christmas we have a tinsel star race, we did a race to the North Pole on Christmas Eve. 
Easter Bunny Race 'N' Bake
The race involved eight separate teams sailing out of the dock and back whilst simultaneously baking a cake to be judged once the race had finished. 
"At Easter we always have what we call the 'Easter Bunny Race' or sometimes we have a series depending on the tide times and the availability of club members. 
"Last year, we based it more around dressing up so there was more of an Easter dressing up theme, so we had Easter bunnies, the Madhatter and Alice in Wonderland, things like that. 
"What was lovely about this one was firstly we had the weather which was gorgeous.
"The sun was shining and although it's a race, we take it less serious. The prizes aren't related to a racing series."
Nichola says the event drew a positive response from all who attended. 
"We had some members of our club who brought their children along. Another member whose sister has additional needs came aboard as well. 
"The cakes produced were amazing. One family produced a gluten-free chocolate cake.
"Another boat's oven had recently been taken out of it so they innovated their own design of a Dutch oven and they baked a lemon cake onboard which tasted just divine.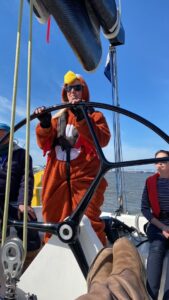 "Others did a cake in the shape of a boat. Somebody did profiteroles which tasted absolutely amazing. 
"Then we had a little bit of a pontoon party where we all got together and our Sailing Captain did the judging as the chief cake taster!
"We all tucked in and shared the spoils together really but it was a fabulous day."
The right mix of fun and competitive 
While the club never hesitates to let its hair down and enjoy itself, Nichola also emphasised the competitive nature of everyone who takes part. 
"We take our racing seriously but the camaraderie, we work together and have great fun."
The club's first Race of Spring Series was held last week as its members gear towards a busy summer schedule. 
"At the end of July we go off to Piel Island which we haven't been able to do in the past couple of years because of COVID.
"We do a family weekend there – either staying in tents or on boats – have food and drink and then cruise back the next day.
"We've got lots of opportunities, really. We do cruises to Conway, our Isle of Man midnight race.
"We don't stop for the winter either – we call it the Brass Monkey series in January which is one of our most popular racing series."
Members also regularly compete on both the national and global stage if they so wish. 
"We go to international competitions as well. I did the Sonata Nationals down in Brightlingsea in the summer. We've just done the England Nationals up on Windermere too.
"There's a good scope for developing and something for everybody really."
Mixing among the local boating scene
The club also has close links with similar boating communities in the local area. 
Members were treated to a 'Snooker Social' at the Wallasey Yacht Club on the other side of the River Mersey. 
Nichola says each has something different to offer, only enriching the experience for those who share a passion with being on the water. 
"We have a good affiliation with lots of the other clubs on the river.
"We're doing our joint regatta with Royal Mersey in the summer which will be the third time we've done it together. Hopefully that should bring a lot of the clubs together. 
"We've all got quite niche types of sailing and different types of boats. We're all quite diverse but also share the same passion for sailing."
A unique approach
While the success of the club cannot be denied, its committee are always looking for new ways to adapt and offer new experiences. 
The club's three flag officers are all female, something which is scarcely seen across the sport of sailing, and all members have a role to play in club proceedings.
"A lot of clubs have members on the board but they might be social members or because they have a venue they go there because it's a nice play to be seen", said Nichola.
"Ours tend to be active sailing members. Our three flag officers are also sailors.
"We're quite proactive and forward-thinking."
Breeding the next generation of sailors is also at the heart of Liverpool Yacht Club. 
They've recently invested in a racing dinghy to aid the development of younger people who are looking to get involved with the sport. 
"We also have a dinghy section where we race and practise on Crosby lake on Tuesday and Saturday evenings.
"We've just bought a GP14, which is more of a racing dinghy.
"We're looking to develop that to bring in younger sailors and develop the competence of the members that we have."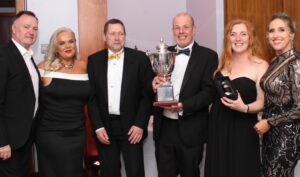 The impact of COVID
The recent COVID-19 pandemic saw all sport clubs take a major hit as sources of income were cut dry. 
Liverpool Yacht Club were no different but adapted to ensure the community spirit was maintained even at a time where members could not physically share each other's company.
"COVID was tricky. We have a really strong team of committee members who were really proactive in using the guidelines.
"Anytime that we actually could, we were out sailing, obviously legally and following the RYA guidance.
"Our club was really proactive. When there was lockdown obviously there was no sailing going on, we couldn't access boats. 
"But to overcome that we had talks from international sailors and quiz nights that we did online. We also did baking competitions that we orchestrated online between us. 
"It was really difficult but we kept the community together with online zoom meetings.
"That was where people would come up with new ideas on how we can keep people together. 
"Sometimes we would just have an online zoom just so people can chat. Because our members are all quite active, we know each other well.
"We are quite a tight-knit community and have such a diverse group of people who come together."
(Featured image: Courtesy of Liverpool Yacht Club)