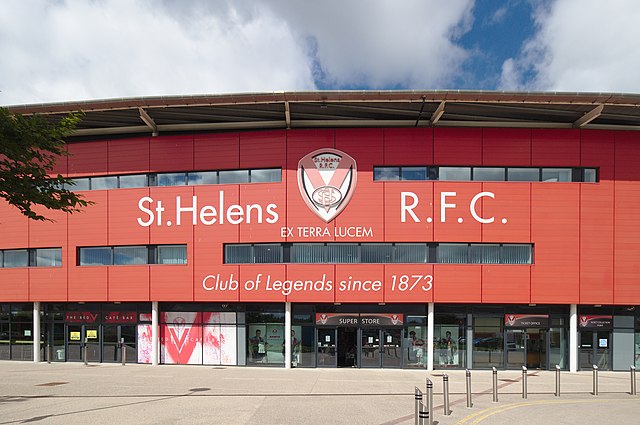 St Coach Paul Wellens has made a positive approach to the forthcoming Super League season, by signing Tee Ritson. The Thai winger was on from Barrow Raiders last season.
Having scored 70 tries in 71 appearances for Barrow, including 33 in 31 appearances in the 2022 Championship season, Ritson was an attractive proposition.
✍ 𝗦𝗔𝗜𝗡𝗧𝗦 𝗥𝗘𝗧𝗔𝗜𝗡 𝗥𝗜𝗧𝗦𝗢𝗡 𝗨𝗡𝗧𝗜𝗟 𝟮𝟬𝟮𝟱

The Saints are delighted to announce that @tee_ritson has signed a two-year contract with the Club, keeping him with the Saints until the end of the 2025 season!

Read more 👇#COYS

— St.Helens R.F.C. (@Saints1890) October 18, 2023
Expectation was always going to be high at a pinnacle for Wellens and his imports – when he got the top job after four consecutive Grand Final triumphs.
However, despite a minor fall from grace when Saints came third in the league and lost in the semi finals Challenge Cup, Ritson enjoyed a relatively successful first stint at the highest level with two tries from 12 appearances, adding to the 100 tries from 132 appearances.
✌️ more years for ☕

🤩🤩🤩@tee_ritson #COYS pic.twitter.com/bSi8golNrx

— St.Helens R.F.C. (@Saints1890) October 18, 2023
On making his signature permanent and extending his stay for at least the next two seasons, the bleach-blonde 27-year-old didn't understate his delight.
He said: "I'm absolutely buzzing, it's something that I've worked hard for – all year."
The winger also expressed his gratitude to the club, knowing he will be a marked man next season.
"For these guys to show their faith and trust in me, I'm absolutely buzzing to stick around for the next two years.
"I'm hoping to cement my place as a player in the starting team."
St Helens in now a home from home. Ritson for the Thai born player.
He said: "The fans have been great with me from the start, I see them around town quite a lot and they always stop to say hello."
Having been with the club for just shy of a year, following his initial loan arrival, Ritson has acknowledged those supporters were an important driving force in his debut Super League season.
"I've made my transition quite easily, thanks to the fans – and I'm looking forward to the next two years," he added.
Having settled with a reasonable degree of ease in his first season, Ritson is determined to become an established household name – for Saints and the Super League, alike.
He said: "I just want to be one of the first names on the team sheet."
Ritson is confident that he can prove his worth.
He said: "I know that I've got a lot more in me."
As all of the best wingers do, Ritson has the asset of pace in great abundance.
He says he is looking forward to hitting the ground running, in more ways than one.