British Olympian, Luol Deng, has announced his retirement from NBA basketball after over 10 years playing in the States.
Deng signed a one-day contract with the world-renowned Chicago Bulls, ending his professional playing career with the team that drafted him in 2004.
Born in South Sudan, Deng fled his country as a child. A young talent, he represented England at Under 16 and Under 19 level before becoming a British citizen 2006.
Deng played most of his career on a very talented Chicago Bulls team alongside 2010 NBA Most Valuable Player, Derrick Rose. He made back-to-back NBA All Star teams in 2012-13 to go along with his NBA Sportsmanship Award which he scooped in 2007.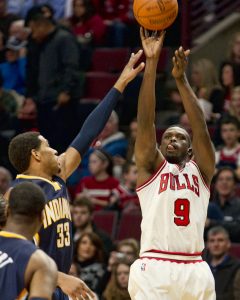 After leaving the Bulls, Deng played two seasons with the Miami Heat before signing his last big contract with the Los Angeles Lakers, putting pen to paper on a 4 year, 72 million dollar deal.
The 6ft 9inch Forward is regarded as one of Britain's best hardwood stars. An ambassador for the London 2012 Summer Olympics, Deng averaged 15.8 points, 6.6 rebounds, and 4.6 assists as the Great British team finished 1-4 in the Olympic tournament.
As for what is next for Deng, he has heavily invested in Real Estate and does a lot of Charity work for organisations such as The World Food Programme and the UK children's charity School Home Support.
Featured Image – Susan Lesch – under creative commons license