The city of Liverpool has a history of ingrained combat. Starting in 1929 when Nelson Tarleton won a British title with one lung to current WBA Super-Middleweight title Callum Smith determining himself a figurehead for the city and British boxing.
Much like decades prior, the 2010's has been an especially successful decade for combat in the city, with those competing at the highest level through a variety of different sports with a fixation on boxing most noticeably.
As the decade closes, this article will take you through 2010 and 2019 with a analysis of the major combat events in each year.
What will become apparent during the course of the piece is that success grew as the decade did, with 2018 and 2019 being especially successful years, with a promising next decade to come.
2010:
A slow start to the decade and mostly the beginning of those who would go on to have major success as the years went on.
Tony Bellew won the Commonwealth light-heavyweight title and a few more boxers won national fights.
In mixed martial arts (MMA), Team Kaobon fighters fought throughout the year. Paul Kelly went 2-1 in the year, Paul Sass had a successful UFC debut and Terry Etim lost to who would become UFC lightweight champion later down the line in Rafael dos Anjos.
2011:
The 'Bomber' Bellew lost a grudge fight against Nathan Cleverly for the WBO light-heavyweight title in a fight which many had him winning. The fight was his first world title fight, but not the last.
Paul Kelly was released from the UFC after losing to Donald 'Cowboy' Cerrone in a fight that was awarded a fight of the night honour, whereas Paul Sass took his professional record to 12-0 with a win over Michael Johnson at UFC Live: Cruz vs Johnson.
2012:
The Smith brothers all went unbeaten in the year, with Callum making his professional debut against Dan Blackwell and Liam winning the vacant Commonwealth light-middleweight title in London.
Rising heavyweight David Price recorded a massive win over Audley Harrison at the Echo Arena to claim the Commonwealth and British heavyweight titles in October before defending both titles a month later against Matt Skelton.
His friend Tony Bellew won three times in the year as well after losing his first professional fight in the year before.
Quite a notable achievement in this year came with Natasha Jonas, who became the first ever British female in history to compete in boxing at the Olympics, as she competed in the 2012 Games before losing to Katie Taylor in the quarter-final.
An unfortunate episode in MMA came with Terry Etim losing to Edson Barboza with a knockout that still gets shown in the sport's highlight reels today.
In addition, his teammates Paul Sass and Paul Kelly went 1-1 in the year.
2013:
Price suffered two shock knockout losses to Tony Thompson in the year which derailed his world championship ambitions that have yet to be rebuilt in his career.
Similarly, Tony Bellew lost to Adonis Stevenson for two world titles in Canada in what he would call an important fight that meant he moved to Cruiserweight where he found his most success.
Just outside of Liverpool and in St Helens, boxer Martin Murray fought for a world title in Argentina against Sergio Martinez and lost a controversial unanimous decision. He would go on to fight for a world title four times and be unsuccessful in all.
Terry Etim and Paul Sass both retired from the sport after fights in Bellator. Paul Kelly won on a show in Essex in March 2013 before being given a thirteen-year sentence for heroin trafficking two months later. He is expected to make his return in 2020 at Probellum MMA.
2014:
Liverpool's Cruiserweight Tony Bellew finally got his revenge against Nathan Cleverly with a split decision win at the Echo Arena.
Nothing major happened aside from that with many of the boxers building towards the world stage which they would approach in later years.
2015:
Martin Murray featured in one of the biggest fights of the year when he squared off with Gennady Golovkin in Monaco.
The loss was followed by another world title loss later in the year to Arthur Abraham in yet another controversial decision loss.
Darren Till made his UFC debut as well to become the first Liverpool fighter since Etim to fight for the sport's biggest promotion.
2016:
Again and as the theme throughout the decade, it was Tony Bellew who had the most notable achievement when he finally claimed his first world title in May of 2016.
The fight with Ilunga Makabu at Goodison Park will forever have a place in British boxing history for the emotion and feeling when he came back from an early scare to win the fight in the third round.
The Evertonian would defend his title once in the year with a comprehensive win over BJ Flores. His 2016 success along with others was the beginning of a few years of scouse dominance.
Contrastingly, Liam Smith challenged Canelo Alvarez for the WBO light-middleweight title in Texas. 'Beefy' was unsuccessful but earned many fans with his performance.
2016 also saw one of the best fights in the area's history take place at Shinobi War 8 with Next Generation MMA's Adam Ventre fighting Dylan Tuke. The Olympia witnessed one of the best live fights as the pair went back-and-forth for as long as the fight lasted.
That was also the year Ventre's teammate Paddy Pimblett claimed the Cage Warriors featherweight title amongst four massive wins in the year, including one over UFC veteran Julian Erosa.
Chris Fishgold also won the CW lightweight title in what will be remembered as a defining year for Next Generation MMA.
Aside from all the success, Anthony Fowler was unsuccessful in his Olympics attempt as he bowed out in the opening round in Rio de Janeiro.
2017:
Although the current generation were building for major success, a notable announcement in the year came when Liverpool legend John Conteh was awarded an MBE for his services to boxing and various charities since his retirement.
The Toxteth fighter remains an icon to boxers across the country, but especially Tony Bellew who made his own history in 2017 as he beat former heavyweight champion David Haye in one of the biggest grudge matches of the year.
The same card also saw city boxing legend Derry Matthews end his career after losing to Ohara Davies. He left the sport with a professional record of 38-12-2 with notable wins over Anthony Crolla and Tommy Coyle.
Darren Till finally broke out on the worldwide stage late into the year with a win over Cowboy Cerrone in Gdansk, Poland. After a few years of waiting for the next Team Kaobon talent, Till became that man after beating the veteran in his first UFC main event.
The welterweight fighter recorded two wins over Jessin Ayari and Bojan Velickovic before being awarded the chance to headline a card against a big name in Cerrone. The first round finish set him up for stardom.
A disappointing time for the city came when Paddy Pimblett lost his featherweight title in April of the year. However, Chris Fishgold successfully defended his against Alexander Jacobsen.
On the other hand, Lee Chadwick won the promotion's middleweight title after beating Victor Cheng in October.
2018:
2018 was no doubt the best year in history for Liverpool combat. A flood of stars took over the world stage in all combat formats.
A sad part saw the city's hero Tony Bellew retire after being beaten by Oleksandr Usyk. He did beat David Haye for a second time earlier in the year and bowed out in a sold-out Manchester Arena with the whole country wearing their pride at his accomplishments. Just like his hero John Conteh did, Bellew will inspire the next generation in boxing.
On another sad note, David Price was devastatingly knocked out by Alexander Povetkin despite some early success in the fight.
As Bellew retired, Callum Smith took over the Liverpool boxing reigns by winning the WBA (Super) super-middleweight world title after winning the World Boxing Super Series final against George Groves.
Another scouser in Darren Till became the first from the city to challenge for a UFC title, but he was unsuccessful in Dallas, losing to Tyron Woodley via second-round submission.
Previously in the year, all his hype made sure the UFC held an event in Liverpool for the first time, which was memorable. The event sold out in minutes and provided the sport with one of the best walkouts of the decade.
He would beat Stephen Thompson by decision to put himself in line for the welterweight title opportunity.
Molly McCann became the first female world champion from the city in February when she headlined the Echo Arena and stopped Bryony Tyrell to claim the women's inaugural flyweight title. Unfortunately for her she would lose her UFC debut in Liverpool.
That same night in February saw Paddy Pimblett secure a flying triangle finish over Alexis Savvidis, before losing to Soren Bak later in the year for the lightweight title.
In December of the year, Rocky Fielding challenged global star Canelo Alvarez in New York, but faltered to the pound for pound number one after three rounds. He had beaten Tyron Zeuge to win the WBA (Regular) super middleweight title earlier in the year before losing the belt.
2019:
As mentioned previously, with Bellew retired, the boxing crown for the city fell on Callum Smith and he stepped up to the plate with two wins including a title defence in the M&S Bank Arena.
He secured one of the knockouts of the year on the Joshua-Ruiz undercard in New York, before beating John Ryder by decision in Liverpool.
Smith is coming up to the level of earning the biggest fights in the sport and 2020 could be that for him. Canelo Alvarez, GGG and Billy Joe Saunders all look like potential opponents.
In the biggest MMA story of year for the area, Liverpool's Darren Till found success in his middleweight debut, beating Kelvin Gastelum by split decision at UFC 244.
The judges scorecards (30-27 Gastelum, 30-27 Till and 29-28 Till) saw the Liverpudlian earn his sixth UFC win.
MMA | @darrentill2 walkout at #UFC244 pic.twitter.com/IgLLDKf7CH

— MerseySportLive (@merseysportlive) November 3, 2019
He successfully kept his opponent at bay and landed the harder strikes, with the American failing to land anything significant and the Englishman being awarded as the rightful victor.
The start of the year was the lowest point of Till's career with a devastating knockout loss to Jorge Masvidal at UFC London, but he rebuilt himself on the year's biggest event with the eyes of the fighting world watching to set himself for
Fellow Team Kaobon fighters Mike Grundy and Tom Aspinall went unbeaten in the year and are both expected to compete at UFC London on March 16th as well as women's flyweight Molly McCann and adopted scouser Danny Roberts.
McCann especially had a special 2019 with three victories and no losses to rectify her UFC debut loss. With the flyweight division relatively shallow and new to the UFC, a quick rise to a title fight could be on the verge for her.
After beating Diana Belbita in October, the most-decorated scouse female fighter and former Cage Warriors world champion could secure a title fight in 2020 if her high-standard of performances continue.
Danny Roberts had a mixed year as he turned around two losses early in the year with a big knockout win in Russia over prospect Zelim Imadaev. A fight with Nicolas Dalby next March has already been tipped to be a fight of the night contender.
Bantamweight Raphael Ughebu made his professional debut as well on Bellator and went 2-0 in the promotion with a bright future looking promising. He is definitely a fighter to watch out for in 2020 and beyond.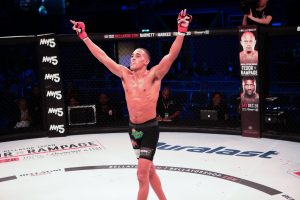 In disappointing news, Paddy Pimblett didn't fight in the year due to his fight being pulled a day before the event due to his opponent missing weight, but he will return in March at Cage Warriors 113 to continue his reputation as one of England's most promising.
His teammates Chris Fishgold and Adam Ventre are expected to fight early in the year for their respective promotions.
As detailed throughout, the 2010's were hugely successful for the city upon reflection and with many Liverpool fighters at the world level in both boxing and MMA, that success is sure to continue on into the next decade.
It went from Terry Etim to Darren Till in MMA and Tony Bellew to Callum Smith in boxing, with a bright future likely awaiting many fighters from the city in the coming decade.
Picture by demixleighx95 under Creative Commons License