By Max Rudd
The Coronavirus pandemic has had a major effect on most industries and a significant amount of people around the world. The severity of these effects vary, some people have lost loved ones, some have lost their jobs, but for young aspiring footballer Tom Moore, the virus proved to be the reason why he is yet to make it onto the professional scene.
The 21-year-old was on the verge of putting pen-to-paper on a one-year deal at Scottish Championship club Inverness Caledonian Thistle. That deal fell through at the eleventh hour, however. 
Inverness' chairman Ross Morrison was wary of the financial implications the virus could prove to have on both his club and the footballing industry in general. He decided the deal was not financially viable but assured Moore that the deal would be revisited in the summer.
"In January of this year I was ready to put pen-to-paper on a one-year deal at Inverness. But with the covid-19 outbreak it wasn't meant to be and that deal fell through unfortunately.
"At the time, the virus was all over the news, but I never really thought it was going to affect me personally, I don't think many people realised how serious this virus would prove to be. Sometimes you just have to take it on the chin. There are a lot of players in the same position as me at the minute due to the covid-19 outbreak."
Although he didn't play a competitive match for Caley, he valued his time in the Highlands and insists that it is the level he wants to be playing at.
"I was at Inverness for a few weeks, it was a very good standard and I learnt a lot in the short time I was there. Being in a professional environment was unbelievable. Obviously being a young lad and being involved in a big club like Inverness, it was just another level to be honest. It made me hungrier and made me realise that is the type of environment I want to be in day in day out."
It is not the first time he has been in and around a professional set up however. He spent two years at EFL League Two club Morecambe, albeit it at their reserve set up.
His time at the Globe Arena saw him surrounded by experienced pros such as Kev Ellison,  the 41-year-old football league journeyman who racked up over 700 appearances during his 24-year-long career.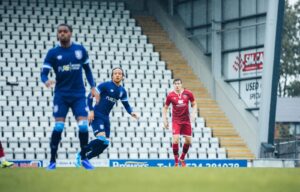 He highlights fellow scouser Ellison as someone who had a major impact on his development during his time at The Shrimps.
"Being a young lad, being around the likes of Kev, he was always around the reserve set up coaching or getting some game time. I was always asking him questions and he taught me a lot about the do's and don'ts at that level of the game."
Moore's career has predominantly been spent in the non-league set-up however. Spending time at clubs such as Burscough, Marine, Droylsden and a one-year loan deal at Swedish fourth tier club, Ytterhogdals IK. 
We are now almost nine months down the line from the deal that never happened in Scotland. The situation regarding the pandemic has not improved and the financial state of the game is proving to be make or break for any clubs in the UK. With no indication the situation is going to improve any time soon, the promised revisit of the deal between Inverness and the versatile scouser looks to be delayed even further.
"I was given a squad number and was moments away from signing the contract. But these things can happen. It was a tough one to take, but it makes me want to work harder."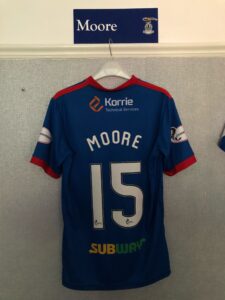 The Crosby-born youngster has adopted a very pragmatic mindset which has ensured he remains focussed on his goals. His spare time has provided opportunity for him to work on any potential flaws in his game. 
"Personally for me I'm focussing on myself and getting more individual training during the week, obviously not being in a full time club environment isn't ideal, but during this free time there are parts to my game that I can fine tune. Working on the defensive side of my game, my heading and my passing so I always try to take the positives from difficult situations."
At 6 foot 4, the former Chesterfield High student has a towering frame that is ideal for the central defensive position he thrives in the most. He is technically gifted and has developed as has the style of the English game to ensure he stands out amongst others.
"I actually started off as a striker, then a winger, then a midfielder then a centre back. I have retreated down the pitch but I believe this is why I am good on the ball and have a good eye for a pass. I have skills that I have picked up from playing higher up the field. I like to play out from the back, John Stones is someone I look up to and see similarities in our game.
"I see myself as a unique defender, I get the ball down and play, I am technically gifted and I like driving into midfield."
After the deal north of the border fell through earlier this year, Moore now finds himself on the books at BetVictor Northern Premier League club Widnes. He is enjoying his time at the DCBL Stadium and getting regular game time under his belt.
"We have a great set of lads. There is not one bad egg in the dressing room, we're all tight knitted, and of course it's only early days. We've had two disappointing results to begin the season but we will improve and our target is to finish in the promotion places come the end of the season.
"At the moment I'm taking it day by day and just trying to improve as a player hoping that opportunity may be just around the corner, and if it does come, I'll be confident that I'm ready.
"If I can keep playing games regularly and consistently there is no reason why I can't go higher and progress. It's down to me to train hard, work hard and take care of myself."