Dayot Upamecano has enjoyed an astronomical rise in the footballing world.
Having joined RB Leipzig from their sister club RB Salzburg in 2017, the 22-year-old French International central defender has gone on to play over 100 times for Leipzig.
His reputation has only grown in that time with many touting him as one of the worlds best young central defenders.
According to Christian Falk of Sport BILD in Germany, Liverpool alongside Bayern Munich and Chelsea are believed to be the three sides he will choose between this summer.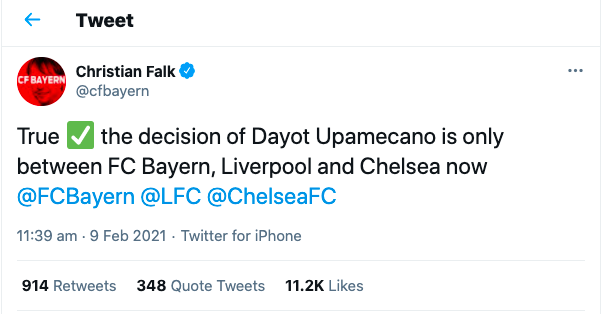 Courtesy of: https://twitter.com/cfbayern/status/1359104599437824001
What is it about Dayot Upamecano that has Liverpool jostling for his signature and how would he fit in with Jurgen Klopp's side?
Attributes
Standing at 6ft1″ and possessing a wide frame he is physically dominant and aggressive.
He is competitive aerially and possesses both the athletic capability and pace required to be apart of high lines and play in the premier league.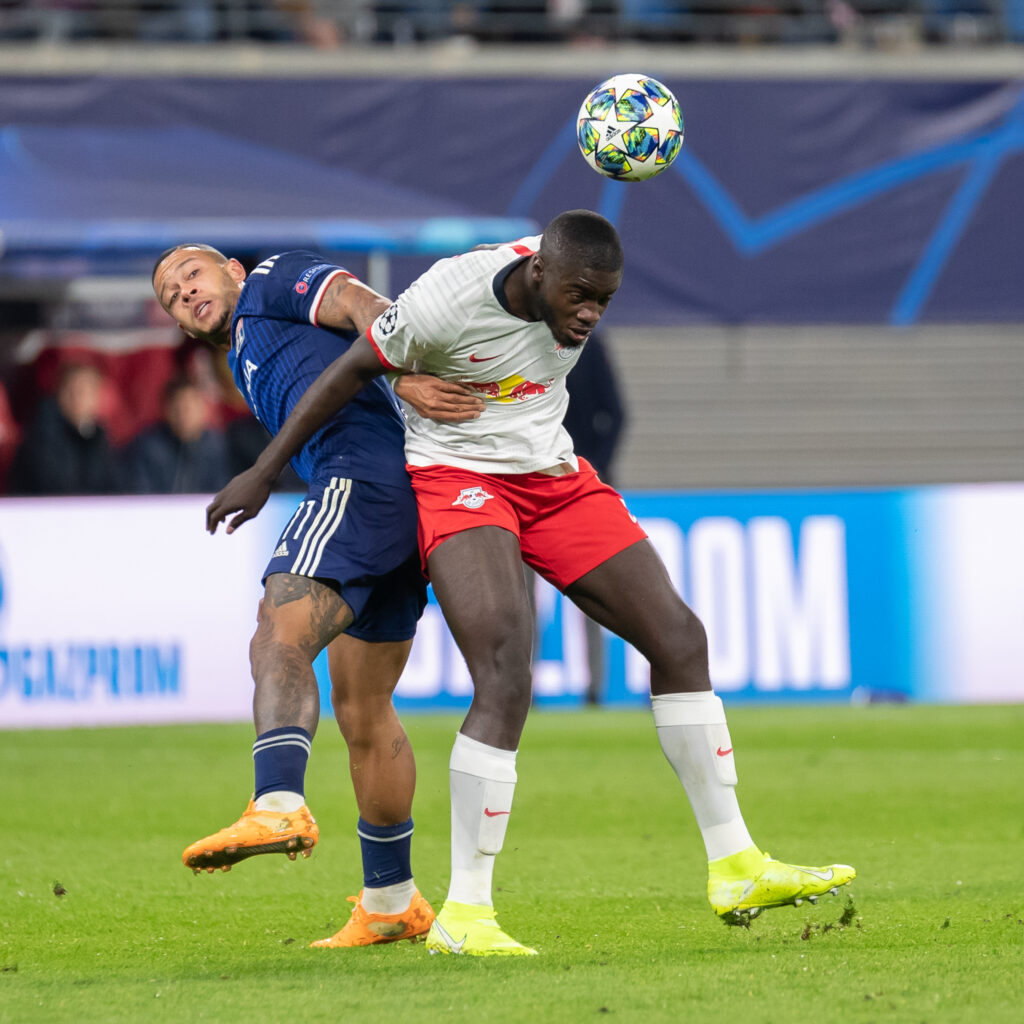 Style
Most progressive and successful sides rely on building out from the back.
It's become a vogue philosophy, but one nonetheless that is popular amongst most top sides including Liverpool.
Upamecano fits that style perfectly. He is comfortable receiving the ball in tight spaces and consistently finds team mates under pressure from the opposition.
He is able to provide penetrative passes through the thirds to midfield players and beyond, a trait Liverpool have sorely missed in Virgil Van Dijk's absence through injury.
Under Julien Naglesmann and RB Leipzig's direct style, Upamecano attempts 9.6 long balls per game at a successful rate of 68.8% and is encouraged to play long raking passes in behind.
Such an ability would go a long way in providing a dual axis to spring attacks from defence alongside Virgil Van Dijk.
The Frenchman is also flexible. He has played apart of a back four and a back three and is comfortable plating either side of central defence.
It isn't just what he can do on the ball either.
Off the ball he is a proactive defender who relies on his tall frame, athleticism and recovery pace to smother quick counterattacks against his side. This season, he has averaged nearly 3 clearances a game and 1.5 interceptions.
For teams such as Liverpool, who famously play a high-line, such pace and reading of the game is a real asset when dealing with the counter attacking threat of low block sides.
He is aerially dominant too. Compared to his potential future teammate, Virgil Van Dijk, they possess similar aerial dual percentages at 62.5% for Upamecano and 63% for Van Dijk for the season per 90 minutes, albeit Van Dijk's sample size is significantly smaller.
The French starlet is aggressive in the tackle and recovers the ball 9.1 times per Bundesliga game this season.
Contract
Young and talented centre backs are particularly hard to find, but one that has a fixed fee due to a release clause are even rarer.
RB Leipzig signed Upamecano to a new contract that included a release clause for £38m which comes into effect at the end of the 2020/21 season.
Essentially clubs can bypass the negotiation phase and go straight to dealing with the players agent and construct personal terms if the fee is met.
The French starlet is reportedly valued at £54m on the open market according to Transfermarkt, so any future purchase would reflect significant value.
https://www.transfermarkt.co.uk/dayot-upamecano/profil/spieler/344695
Liverpool's Chances?
It is tough to call. There is no doubt Liverpool need long term defensive reinforcements, particularly given both Virgil Van Dijk and Joe Gomez are coming off of long term injuries.
Joel Matip's fitness cannot be relied upon and new signings Ozan Kabak and Ben Davies may not be long term solutions.
Therefore if Liverpool have the funds, £38m reflects excellent value for a position of need. Both Jurgen Klopp and Sporting Director Michael Edwards past modus operandi for transfers has been to seek value.
The sticking point would be playing time. At both Bayern Munich and Chelsea he is likely to be faced with less competition for places, particularly given the potency of Van Dijk and Joe Gomez's partnership in the 2019/2020 season.
However, Liverpool regularly face gruelling schedules both domestically and in Europe so lack of playing time is not likely to be an issue for the defender.
Predicted Likelihood: 7/10