By Kamran Bahra
1) Liverpool – Jurgen Klopp YNWA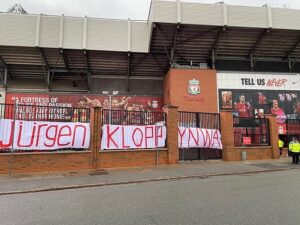 Reds' fans hanging supportive banner outside Anfield gates yesterday. It comes off the back of a poor run of league form, emphasised in their 3-1 collapse to Leicester, as well as the tragic loss of Klopp's mother in January.
Clearly, the response has been nothing short of love for the man who brought the club's first league title in 30 years and Champions League in 2019.
2) Chelsea – Circus continues
📸 Outside Stamford Bridge this morning.

'Circus Continues' pic.twitter.com/vqi3YTxJF5

— LDN (@LDNFootbalI) January 27, 2021
There was mixed reaction from Chelsea fans towards Frank Lampard's sacking last month.
The banner along with blue smoke bombs were let out outside the southern side of Stamford Bridge, as the former player lasted just 18 months in the job.
Lampard became Roman Abramovich's 10th manager sacked since his takeover.
3) Tottenham Hotspur – Profit before glory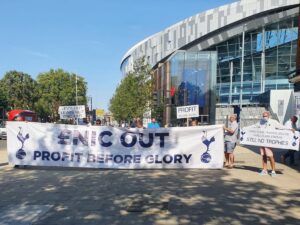 (Image: theboyhotspur.com)
Patience was lost back in March 2020 as Spurs supporters made their frustration clear to a lack of squad investment by owners ENIC (England National Investment Company) and Daniel Levy.
The North London club spent close to £500m on their new stadium in 2017/18, borrowing £281m to cover loan debts and spending just £73m on players.
4) Manchester City – Anti-Uefa ban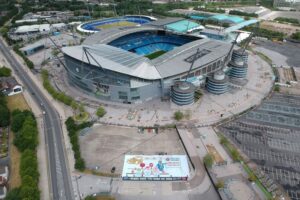 (Image: jhanson_drone_photography)
A group of City fans unveiled a huge display in protest of UEFA handing the Blues a two year ban from all European competition in July 2020, following alleged FFP misconduct in 2014.
The sign portrays UEFA members as characters from The Muppets with 'Stop Man City' accused as being on their agenda.
The case was overturned, walking away with just a £9m fine.
5) Rangers – Upgrades at Ibrox
It certainly looks better in person than the photos pic.twitter.com/qjrwYbl8fW

— A Trip to Ibrox (@a_ibrox) July 5, 2020
Boarding placed on the famous red brickwork on the Broomloan Stand of Ibrox Stadium, to indicate plans of modernising the ground and the surrounding area.
It showed 15 small square images alluding to both the history of the club and a range of services and initiatives at Rangers.
However, for some, it was a turn-off to an exciting proposition.