As the sporting world turns its attention to the elite-level Vitality Superleague, Empire Netball Club in Sefton is proving that you don't need a top-level team to be a thriving regional sport.
Merseyside may not have a team in the top-flight of English netball, but grassroots participation and competition is high across the region.
Empire Netball Club, based in Sefton, was founded in 2014 as a junior club with four players. Seven years later, they have 12 squads and over 120 players.
"It escalated within a couple of months really," says Michelle Scarfe, who co-founded the club with Jenny Taylor.  "We went from having five or six girls to having about 25 girls coming to training, and over the years that's escalated quite a lot."
Though they started with the aim of providing a space for junior players, the club grew and grew and in 2019 they added senior squads too, and are now one of the largest netball clubs in the north west.
As well as building a club from scratch, Michelle and Jenny have become significant figures in the growing Merseyside netball scene. The pair took over running the Merseyside Junior League – which has also grown in size under their leadership. Both also sit on the Senior League committee, and Jenny is the chairperson for Netball Northwest.
After starting out due to feeling that Merseyside was not capitalising on its netball potential, seven years later the sport in the region is thriving more than ever.
Limiting factors
A lack of interest has never been a problem for Empire Netball Club, In fact, the opposite was their issue: "One of our biggest challenges was turning people away and saying no, you'll have to wait."
However, the growing size of the club has put pressure on their resources. Though they have a base at a local school, Scarfe says the lack of a bigger venue is their main limiting factor.
"Although we've always had access to a venue, the size of it is really not good, not adequate." said Scarfe. "And there's nowhere really, that offers you that two or three court indoor sports or where you can really get to grips with it and run a bigger club."
"Our club could be massive. We could easily take on another twenty five, thirty, forty kids and seniors if we had more space, but we're so limited."
"In an ideal world I would love to have a four-court indoor sports hall, ten outdoor netball courts and a venue where we can have senior training, we have Junior League, we have Senior League, and have it as a netball excellent centre."
But for Michelle's dream venue – not only to grow the club but to benefit netball across the region – the biggest problem is money.
The club have had support from Merseyside Sport and England Netball, but funding and financial backing is limited.
"For what we need and what we want to do, we would need to get involvement from a school or from another sport, really, to get the space and the land to build something."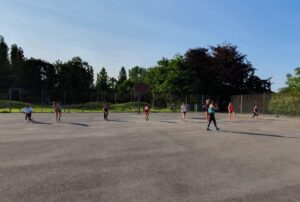 The Covid effect
Like all grassroots sports organisations, Empire have been severely affected by Covid-19 lockdown restrictions over the past twelve months.
"On the back of the World Cup [held in Liverpool in 2019], there was a massive plan. England Netball had this great plan to do X, Y and Z and everybody was on board with it. A lot of clubs were involved in bringing on netball, creating more leagues. But then with Covid, it's all kind of stopped."
Last weekend marked a year since the last junior league match in Liverpool, with clubs only briefly returning to training in the summer.
A long path to the Superleague
With the Vitality Superleague in full swing now, the focus of the netball world has turned to the elite competition.
But for Merseyside, the lack of a team in the Superleague or Premier Leagues doesn't mean sport isn't thriving in the region.
With little change in teams at the top of the sport, it can be hard for clubs and players to move up through the netball ranks.
Whilst it's important to have a top-flight netball competition and to promote the sport, Scarfe explained why Super- or Premier League status isn't necessarily what her players aspire to.
"I think a lot of grassroots players look at Superleague and think the step is far too big." Scarfe said. "Because the pathway seems so long – well, not so long, it just seems so hard to break through."
The North West's only Superleague club, Manchester Thunder, holds open trials for new players, but getting a spot is notoriously competitive.
"We've had eight players I think who've gone for Thunder trials. We had one player who was for U19s and she'd got down to the last 21. Out of those 21 who'd been on the last trialling day, they selected one person.
"That shows just how cutthroat it is."
Return to training
After over a year without competition, and only a small window of training in the summer, the latest lockdown restrictions will allow grassroots sport to return to training from the beginning of April.
We can't wait to get the Netball Family back on court ☀️

📋 We'll be providing you with regular updates and all the latest information to help support the restart of the game.

We're due to receive further detail from the Government but here's the anticipated roadmap 👇

— England Netball (at 🏡) (@EnglandNetball) March 1, 2021
Whilst they are excited to get back, many clubs are also worrying about the drop-out rate among participants, particularly younger children whose confidence may have taken a knock over lockdown
"I think we'll have a couple of drop offs," Scarfe said. "I think we'll probably lose a handful of kids that have gone into a different sport, lost interest or haven't got the confidence, or mental health took its toll and they're all a bit anxious about coming back. So I think the younger ones, we're going to have to push to get them back."
"We've tried to keep the interest running through lockdown. We've had England players come and do some coaching sessions and stuff. But it's all on Zoom, and it's not the same, is it?"
But in-person training is finally returning next month, starting off with outdoor training as the club starts to finally move back to some sense of normality, with a return to league competition expected to follow.
"We just want to get the kids back, and the seniors back and get them all back playing and enjoying netball again."
Featured image courtesy of Empire Netball Club.