There was derby day excitement in the air around the Mersey as Marine Women headed to the Merseyrail Community Stadium inflicting a 3-2 defeat on hosts Southport, in an entertaining clash.
It was the Mariners who started the strongest of the sides in the opening minutes and had two opportunities to open the scoring first. Summer Smith was a threat going forward and had her shot blocked by the Southport defense before being able to clear the ball in the ninth minute.
Marine Women defeat local rivals with late winner
Marine eventually got their reward from a corner as the ball was passed short and crossed back into the area for Siobhan Nickson to score in the 14th minute.
Southport was not a team that was ready to give up and looked to find an equalizer and found themselves putting pressure on Marine continuously in the 27th minute.
Southport continued to look for an equalizer and was able to make a quick breakaway but the attack was closed down by Sophie McGarry in the 35th minute.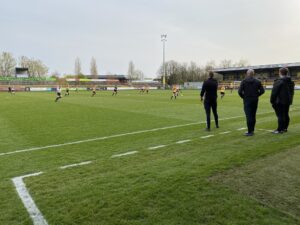 Towards the closing stages of the first half Gemma Latham was encouraging Marine with some brilliant pass and movement combination play. It was a shame as the move was unable to produce any shot and the Southport defense managed to clear the ball away.
Southport eventually got their equalizer just after the second half began but Marine got their second in the 56th minute thanks to a corner from Rachel Lamb who was able to cross the ball onto the head of Nickson for her second of the game into the open goal left almost undefended by Southport.
Southport thought that they had once again secured a draw from the game as they scored an equalizer in the 80th minute.
Step up Lamb who was through on goal having a shot from outside of the box beating the Southport goalkeeper at the near post to secure the 3-2 victory in additional time.
You can see the winner below.
3-2 Marine scoring another goal from Rachel Lamb👏🏻👏🏻👏🏻 pic.twitter.com/M33k5317Bp

— Marine Women's Football Club (@MarineWFC) April 20, 2021