"My god you come past them stands the first time and the noise when you come past them, it's like being at the football.
"I was just thinking imagine being in one of the premier races, if that is what it sounds like for the last race that no one really cared about."
Liverpool has not produced a rich list of professional jockeys of late, despite hosting one of the most famous horse races every year.
However, Joe Anderson is bucking the trend.
And the new breakthrough prospect from Liverpool told Merseysportlive about his experiences of riding at the world famous Cheltenham festival.
"I rode a horse called Mill Green, two years in a row in the mountain piper listed jockey's race," he said.
"The first year was just before the whole Covid thing hit, and I think there was like 70 odd thousand people there, mental, rammed."
The Mountain Piper listed jockey's race is the very last race of the week, and it is a 'handicap' event.
A handicap race essentially means horses carry different weight.
Better horses will carry more weight, giving them a disadvantage allowing the slower horses with less weight, equal chance in the race.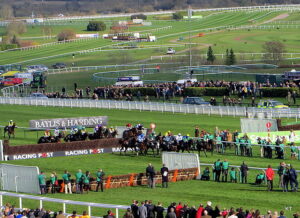 "I think I was about 17th or 18th, there was no way and he just started picking them off one by one," recalled Anderson.
"He turned in, faced the hill and he just took off."
Having the chance to win a horse race is special.
To do it in a major event like this, was something else for a Liverpool-born boy who had never sat on a horse until he was 18.
Just a few years later, Anderson had the chance to beat the very best of the sport.
"I didn't know where I was or where the line was. I just had my head down just drilling him, and there was a real close finish in front of me and I could see it and I was flying at them.
"The noise because one of them was a joint favourite, the noise was unreal. Deafening, it was really like being at the football."
But like any sporting event, it is simply nothing without fans.
The atmosphere in horse race adds such a key value that is hugely missed.
Anderson spoke when he rode the following year in the festival about just how different it was with no crowds.
"I rode at the festival just gone without the crowds, special to ride there but it was so different without the crowds.
"It was so different it just didn't have the same feeling."
Horses react from noise, they feed off it.
Just like sportsmen or women, the atmosphere and support spurs them on.
"It was just a completely different ball game because you have certain horses who can get quite worked up and having that many people and that atmosphere, can make them boil over a bit."
Anderson says it's so important to keep horses controlled and away from the atmosphere, something that wasn't a problem during the Covid Cheltenham festival.
At the upcoming festival Anderson hopes he take a big career step forward and find a winner in front of the returning world famous atmosphere.
(Top picture, courtesy of Joe Anderson)