It's been a swift rise for Liverpool-born snooker player Sean Maddocks after receiving his tour card at the tender age of 17.
Now not far off 20 years old, he is heading into his second year onto the Pro Tour.
It's been a difficult adjustment for the teenager who had a glittered youth and amateur career.
But, Maddocks came from humble beginnings and picked up a cue from a young age.
"I got into snooker when I moved into my Nan and Grandad's house and they had a pool table in the garden.
"I was playing every day and once I got better, I went onto a snooker table and I took to it straight away.
"So, I had a lot of natural talent and I just went from there and kept improving."
After winning his tour card, there was a lot of excitement over his seismic rise and it wasn't unwarranted.
He was able to knock snooker great Ronnie O'Sullivan off the record of being the youngest players to pot a 147 break, aged just 15.
This wasn't the first impressive accolade he achieved in his amateur days.
He reached three big finals all while still being a boy while we see players such as John Higgins and O'Sullivan who have been playing at the top of their game for decades.
After a challenging upbringing and spending most of his life around people much to his senior, the 19-year-old uses this as an advantage to the progression of his game.
"I think you take some things in more quickly and I think that's helped me with my snooker where I've developed parts of my game a lot quicker than other people just because I was playing older people instead of making the mistakes the same as people my age."
Securing and maintaining his tour card when towards the lower embers of the tour rankings can be a challenging equation to solve after succeeding so much in the amateur game.
And that is no different for the World no. 115.
More often than not in the ranking tournaments it has a degree of luck not to be drawn against the sport's elite such as Mark Selby and Jack Lisowski in the last few months alone, often falling short in the opening stages of the tournaments this season.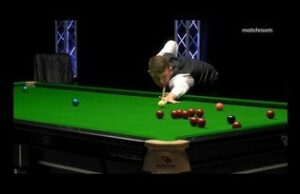 "You've just got to keep learning because you're not at the same level as them [sporting elite] yet, they've been doing it for 30-40 years.
"You're not going to be at the same level as them really, you've just got to see where you're games at when you because that's the hardest test you can get."
But, for now Maddocks' eyes are firmly set on getting to the Crucible for the World Championships in April and feels he can go into the tournament and showcase his talent.
"I've got quite a bit of experience now," he added.
"This will be my third World Championship so you can take that into the last tournaments and not really play with any pressure and just see how far it takes you."
With being seeded to play players around his world ranking Sean 'MadDog' Maddocks will be eager to show why he has made such a brisk rise to the professional game.
(Images supplied with permission by Sean Maddocks)