A Liverpool resident is searching for golf success in the United States after enduring his first year of a scholarship, and is now hoping for pro success.
Jenson Finn, 19, moved to Alabama in the summer of 2021 for his placement at Spring Hill College.
While there, Jenson has the opportunity to study Business, as well as compete on the SHC golf team.
Speaking to Merseysportlive, Jenson discussed the opportunity he has been presented.
He said: "It's been a very exciting year for  me, and now I feel like the prospect of going pro is more and more real.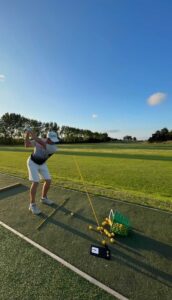 "It's been such a rush from being a member of Southport & Ainsdale for five years, and to now looking at going pro feels surreal."
Jenson's golfing days started with his dad in his hometown of Formby. He credited his family for introducing him to the sport:
"It was really my dad who helped me fall in love with the sport. I was originally football mad, but after finding peace on the course no other sport came close."
"I've had great opportunities in Liverpool to get me where I am now.
"Having the Open played at Royal Birkdale definitely enhanced my passion for wanting to become pro."
Jenson has seized the opportunity in America, highlighting the luxurious golf courses at his disposal:
"I feel so lucky to be able to practice on these courses, they are in the most amazing condition and are so well looked after.
"It gives us players a real boost in becoming pro."
The Future
Jenson has used the staff at his new college to the maximum, and says plans for his future are discussed regularly:
"The staff and management at the college are brilliant. They're always working to make you a better player.
"My plans and goals are constantly monitored.
"I like to set myself new targets as much as possible, as a result, I'm pushing my game further."
(Images courtesy of Chloe Forrester)