With a host of local fighters on the Matchroom card at the M&S Bank Arena on Saturday night anticipation is building around the city as the workouts, press conferences and weigh-ins conclude.
Callum Smith was expected to lead the line in the main event, until injury ruled him out of his proposed fight against Pawel Stepien. As a result, Kirkby's Robbie Davies Jr will take centre stage against Darragh Foley, as they co-main event alongside Diego Pacheco vs. Jack Cullen.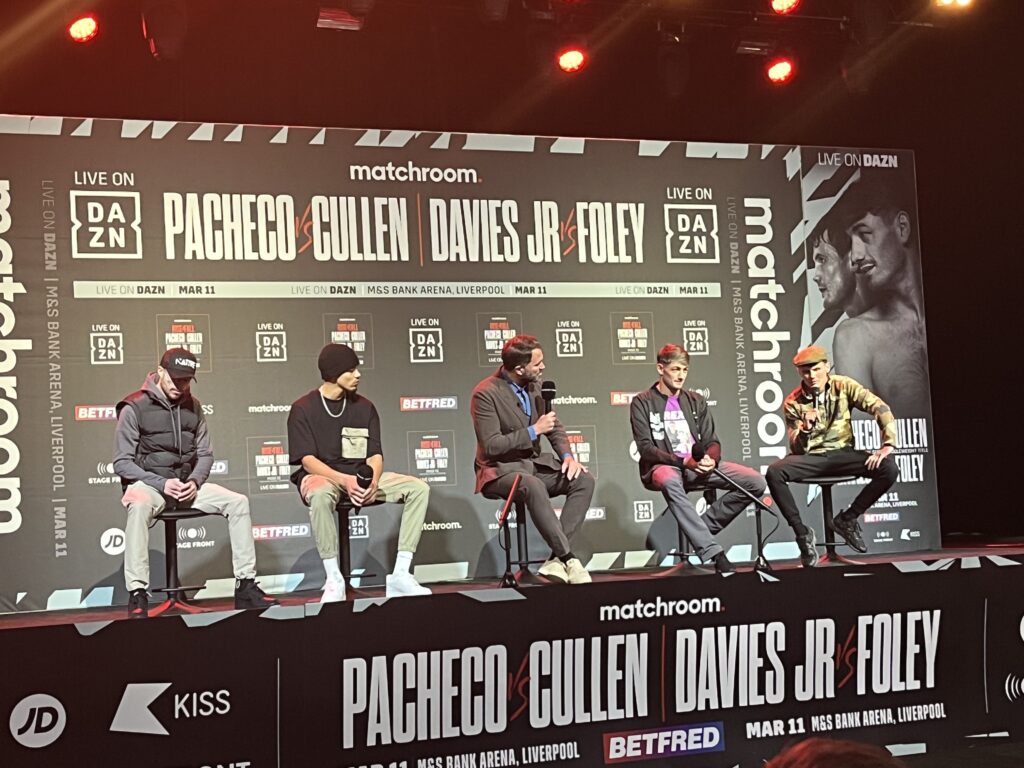 From left to right: Davies Jr, Pacheco, Eddie Hearn (Presenter), Cullen, Foley
At 23-3, it's Davies Jr's first appearance since beating Javier Molina in May, as he looks to stop Foley on his rampart run of four wins on the bounce. The two exchanged tense words at Thursday's press conference, in particular from the Australia-based Irishman Foley, who stepped in to the fight just weeks ago.
"I was grateful for Foley stepping up," said Davies.
"It gives me a chance to show the general public, the Liverpool fans, what I'm about, get the win in dominating fashion and then move onto bigger things in the year. Hopefully I can break him down, get to him and get him out of there."
Foley responded: "I'm unbreakable Robbie, you won't break me down. You ain't breaking me down."
Peter McGrail is another hometown hero competing on Saturday night, and one that comes with a lot of excitement going into his fight against Nicolas Nahuel Botelli. The 26-year-old has recently become apart of the Matchroom organisation, dubbed a future world champion and one of the most talented fighters to come out of the city in recent years.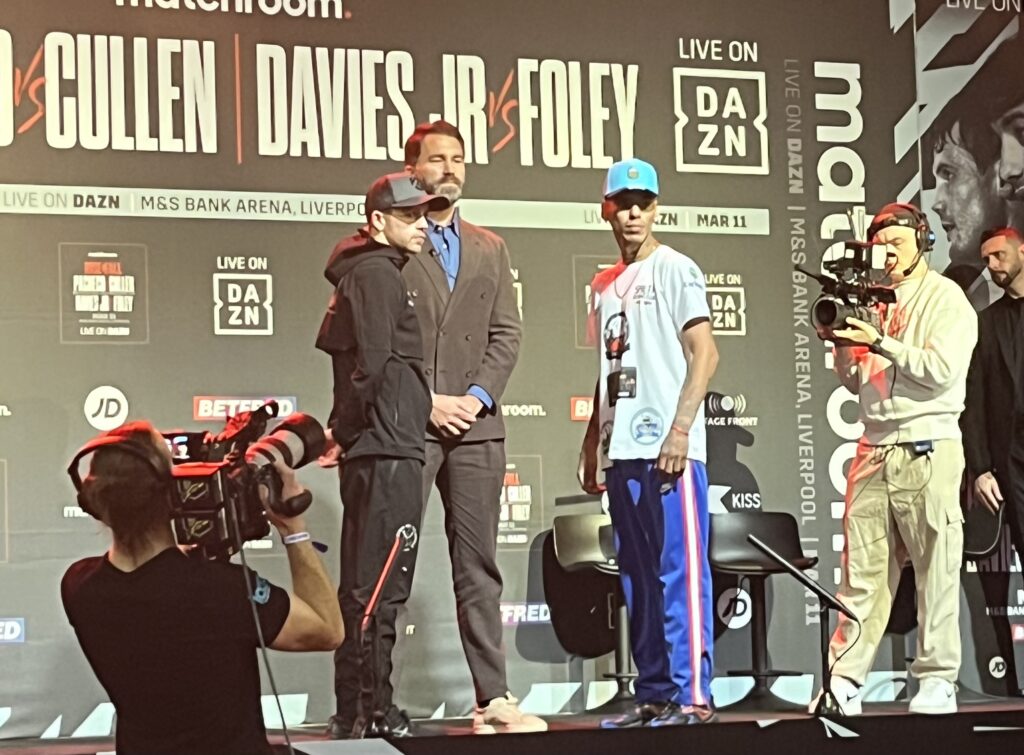 McGrail (left) faces off with Botelli (right).
His decorated amateur career is now transferring onto the professional scene – with a 6-0 record, five by knockout, it's expected this fight will open more doors for him as he looks to continue his streak under his new promotion.
"I feel like with Matchroom behind me, the team I've got and my coaches Paul and Anthony, all I can see is success," said McGrail.
"He's a good fighter – I respect him (Botelli), I respect any fighter, but I just don't think he's on my level."
LISTEN: Rhiannon Dixon says Commonwealth title fight in Liverpool "feels like home"
Warrington's Rhiannon Dixon is set to take on Vicky Wilkinson in a battle for the vacant Commonwealth lightweight title. Both go into the bout undefeated, with a great opportunity in the female boxing scene at stake.
"I always say it's like having a good dance partner with boxing – sometimes you can be dragged down to people's levels but I believe Vicky's a really good fighter and I think she'll probably bring the best out of me at the weekend," said Dixon.
Finally for the local fighters, Paddy Lacey and James McCarthy are to face off in an all-Liverpool tie earlier on in the night.
Lacey recently committed his career to boxing after over a decade playing football for the likes of Southport, Chester and most recently Warrington Rylands. Both are expecting big support from the home crowd on Saturdaty night.