Liverpool's Next-generation MMA prospect, Jamie Cottier says his next fight against Macaulay Donnelly will be the most important fight of his amateur career so far.
The highly anticipated fight takes place on April 22nd at The Olympia in Liverpool for the FCC 33 event.
Donnelly who is coming into the bout on a two-loss streak. Both defeats came via unanimous decisions against Reid Rogers and Ollie Morris, but he is no pushover. He built an impressive five-fight win streak with three ending in a finish. With the added incentive of fighting for a belt, Cottier will have to be wary of his dangerous opponent.
Cottier currently has a 4-1 win ratio 4-1 with three victories via decision and one first-round submission. His impressive start led to promoters FCC picking him up to compete on their cards. Following his win on their last card in December against Cosmin Spartatu, he has now earned the opportunity to fight for the interim featherweight title.
Cottier said: "He's okay, I'm expecting him to be in good shape and to be strong. I don't mean this as an insult but he's quite basic, good straight punches, good low kicks and decent wrestling. But I see myself putting it on him, going first, being aggressive and just picking up rounds. Hopefully just hitting him enough times that the referee wants to stop it," he said.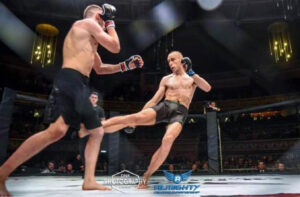 Training at Next Generation MMA
Training at Next Generation certainly has its benefits. The established gym in Liverpool has produced some of the biggest rising stars in the UFC with the likes of Molly McCann and Paddy Pimblett. Though, training at Next Gen comes with the added pressure of living up to the reputation they now have. Cottier believes training with the pros is added experience that other amateurs don't get.
He said: "The pros are just boss to be around and just help you. Sparring today I've got really high-level grapplers and strikers giving me advice which is always good to have, being in a room full of people with more experience than you."
Head coach, Paul Rimmer, will be in Cottier's corner for his upcoming bout. He provides a wealth of knowledge and experience that could be pivotal between rounds. The prospect admires and respects Rimmer and is happy to let him dictate the next steps in his career.
"I just listen to my coach, Paul, whatever he says goes. If I win the title, it's only an interim title so whoever the main champion is I'll fight him but I'm not looking past my opponent. I don't like to go against my coaches' advice, if they want me to have more amateur fights or go pro I will do whatever they want me to do." 
Rimmer has coached on some of the biggest stages of all. He was Pimblett's head coach when the Scouser competed in the co-main event at UFC 282 and is one of the founding fathers for MMA in Liverpool. It is invaluable experience for Cottier having such a highly acclaimed coach in his corner.