The Cheshire Phoenix will be looking to go back-to-back tomorrow, as they take on the Caledonia Gladiators for the BBL Trophy in Glasgow.
Jamell Anderson has been a key player in the Phoenix's campaign this season, and has an astonishing career behind him.
Since picking up a basketball for the first time in secondary school, the versatile forward has achieved more than almost any British basketball player could imagine, including a gold medal at last summer's Commonwealth games.
Now he has his sights set on another career milestone.
He told Merseysportlive: "To bring it home for these Phoenix fans would be a memory I'd never forget."
Commonwealth Gold
A seasoned pro and regular on the international stage, Anderson has several accolades to his name.
As a BBL Champion, a BBL Trophy champion and two-time BBL Cup Champion, the 32-year-old has near enough completed his British Basketball silverware collection.
Of all his successes, Anderson's gold in the men's 3×3 competition at the Commonwealth Games in Birmingham is his favourite.
He scored three points in the final against Australia, which was won with a last-gasp score from Myles Hesson.
Poetic pic.twitter.com/iwdvowV9A8

— Jamell Anderson (@Jamell) August 2, 2022
"Winning gold for England triumphs all of my basketball achievements," said Anderson.
"The lead up to the final was awesome. I really enjoyed spending time surrounded by such high level athletes, and my team and the basketball England staff were amazing."
At the peak of his powers and amongst all the emotions, Anderson thought of the adversities he had battled through to get to the top.
"It was an incredible feeling," he said.
"It literally made me think about my childhood, sacrifices made, racial abuse and just the hard up hit battle of basketball in the UK to reach that moment."
Anderson would go on to represent Great Britain at EuroBasket for the first time in his career just a month later, a competition boasting NBA Superstars such as Luka Doncic, Giannis Antetokounmpo and Nikola Jokic.
Back to the Phoenix with a family, looking for silverware
After five years, Anderson returned to the Phoenix for a second stint in 2022, following spells with the Townsville Heat, the Leicester Riders, and the Manchester Giants.
His most recent season with the Giants saw him selected for the BBL Defensive Team of the Year, with form he has carried through to Cheshire to reach the BBL Trophy Final this weekend.
Anderson says the move back to the Phoenix has been good, both on and off court.
"The Cheshire Phoenix family are unbelievably welcoming and caring and it makes going to work fun, I feel super privileged to play for this club," he said.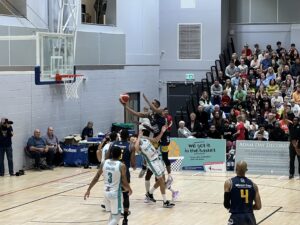 Anderson came back to the club a married man, proposing to now-wife Georgia on the court after a Commonwealth Games match in 2018.
Last month, the pair welcomed their firstborn baby Harper to the world, in what has been a busy month for Jamell.
"A busy month indeed – but the good kind of busy," he said.
"I go to work, work hard, and get to come home and spend time with my family. I know how fortunate I am to be able to do that and I'll remain grateful for every day I get."
When he's not getting engaged on the court, Anderson is still partial to the occasional viral video.
A recent heart-warming exchange between himself and a fan further endeared him to followers, when he broke the news to young Phoenix supporter Austin that he would be going to the final.
"𝕊𝕠, 𝕀'𝕞 𝕘𝕠𝕚𝕟𝕘 𝕥𝕙𝕖 𝕗𝕚𝕟𝕒𝕝?" 🏆#NIXNATION Get the tissues ready and watch till the end …😭😭 pic.twitter.com/jMyASk1H0c

— Cheshire Phoenix (@CheshireNix) March 16, 2023
"The club mentioned that Austin, whom I recognised from speaking with the Cheshire fans after our games, was now going to the final, but his mother and the club thought it would be a good idea for his favourite player to break the news," he said.
"It's crazy to think that I'm someone's favourite player!
"It was emotional to watch and it was also super rewarding to be apart of, which is why it will remain on my Instagram going forward."
While he wasn't in the camp for Cheshire's visit last season to the BBL Trophy Final when they took the glory, this weekend will see Anderson play in his 11th British Basketball Final – four of those in the BBL Trophy.
He says he will be aiming to keep a cool head, as he and the Phoenix look to keep the title in Ellesmere Port.
"Staying calm is probably the biggest asset from the experience I've gained," he said.
"I want to remain level-headed regardless of the show and the spectacle that the BBL will put on. It's all business until we raise that trophy, and I can't wait for the game to start.
"I don't personally have the feeling of defending the trophy but I feel obliged to defend it for the club. To bring it home for these Phoenix fans would be a memory I'd never forget."