Rugby League is a sport that many will know is of some importance for the North West with many teams such as Wigan Warriors, Salford City Reds, Leigh Centurions as well as St. Helens and Warrington Wolves closer to Liverpool but many people may not perhaps know about Liverpool Lions.
I asked Vice-Chairmen and current Head Coach Richard Ellis for the details on how the team was founded and more about the club, just after some Covid restrictions were lifted.
What is it like to be part of the only Rugby League team in Liverpool, how did it get started?
We formed in 2008 when the RFL funded a development officer whose remit was to establish the sport in Liverpool, I was one of the initial group of volunteers to join the club. Since then, we have had many teams come through the system some players going onto play in Super League academies and championship teams. Some of those now back at the club where it all started.  As a Football city, it is difficult to grow the club, where many heartlands' clubs rely on parents to step in as coaches and other roles, many of our parents have not grown up around the game and feel unable to take on these roles.
What does it mean to you and the club with the World Cup coming and Liverpool as a host?
It is an exciting opportunity for us to tie in with the event to promote our club and encourage our members and people of Liverpool to experience Rugby League in all its forms, men's, women's, and wheelchair. We have also benefitted from the World Cup funding to help us establish our current base at Adlam Park in Fazakerley.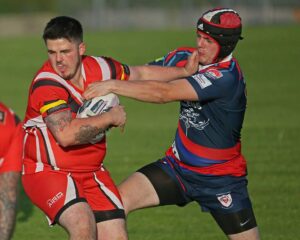 Are there any plans to expand the club into different teams like women's and disability?
At the moment we are limited by the number of volunteers we have in particular coaches as well as the facilities we have available, we would love to expand our offering to be able to offer every age group as well as girls and disability teams and this is our long-term dream but could be years away at this stage.
What would you tell people who would like to join your club?
We are a family-orientated, volunteer-run community club, aiming to provide all in Liverpool with an opportunity to be involved in our great sport. If you are a player, a coach, or have any other skills come down and BE A LION, JOIN THE PRIDE.
Everyone at MerseysideSportLive would like to wish Liverpool Lions all the best for the future and hope that people will consider supporting the team especially with the World Cup coming to Liverpool before the end of the year.
I would also like the thank the Lions and Richard Ellis for this opportunity to tell their story.
(Featured image given from Richard Ellis)