In the Liverpool Old Boys amateur football league, Alsop Old Boys (OB) is a football team that is struggling to stay alive. They are currently in the relegation zone with only a few games left in the season and are in serious need of points to stay up. With the addition of a young and gifted striker named Zac Dick, the team has gained fresh energy.
The 21-year-old forward has scored seven goals in four games and joined the team from Orangefield OB in the middle of the year, has had a big influence so far. He has played a significant role in the team's ability to gain vital victories in their fight against relegation. He grabbed a brace in his first match to help his team defeat their rivals 2-1, setting the stage for the rest of the season's strong showings. 
In an interview with Merseysportlive, Dick spoke about his experience playing for Alsop OB and his goal to help the team avoid relegation.
"I'm really excited to be part of this team, and I'm looking forward to helping the team secure its position in the league. I believe that we have what it takes to stay up, and I'm confident that we can achieve our goal," he said.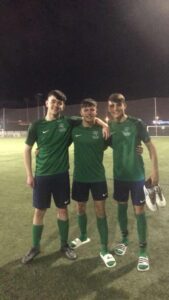 Dick's arrival has also boosted the morale of the team, as his talent and work ethic have been admired by his teammates.
"Zac has been a great addition to the team. He's a very talented player, and he's brought a new level of energy and motivation to the team," said Alsop OB captain, Harry Raney.
"We're all grateful for his contribution, and we're confident that he will help us avoid relegation."
The team manager echoed similar sentiments, saying: "Zac has been a breath of fresh air for the team. He's brought a new dimension to our game and has already proved to be a valuable asset. We're delighted to have him on board and believe that he can help us achieve our goal of avoiding relegation."
Despite the team's struggles this season, the arrival of Zac Dick has brought renewed hope for Alsop OB. With his talent and determination, he has given the team a fighting chance to secure their position in the Liverpool Old Boys amateur football league. Whether they stay up or not, one thing is for sure, Zac Dick's contribution will not be forgotten.
The team above them, Liobians have ended their season with 13 points meaning Alsop OB need 7 points in their remaining four games to stay up. Alsop play their next game on Saturday at Childwall Academy against Collegiate who sit in fourth place with four games in hand on the team on top spot and still have a chance to win the league.