Moses Yoak struck a late winner as Glossop North End fought back to edge through to the next round of the Macron Cup with a  2-1 win against Lower Breck.
Glossop found themselves 1-0 down when Lower Breck debutant Jamie Timlin scored an early goal, but Matthew Gillam equalised after the break.
The home side started on the upper hand after a long, over the top through ball was played by Anthony Walsh from his own half to the feet of Timlin.
The debutant calmly slotted it past the keeper who was forced off his line in the fourth minute.
Glossop came close shortly after with Harry Freedman catching Owen Jones in possession.
The No.11 quickly took a long ranged effort at goal with The Breck keeper off his line which went just over the bar.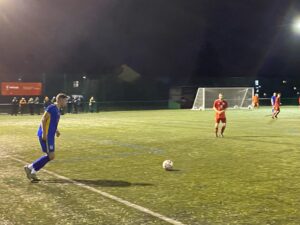 The Hillmen kept applying the pressure with a huge penalty shout in the 15th minute.
Freedman played a low ball out wide to David Badrock who then powered his way into the box, laying it back to the feet of Jacques Etia who was then brought down by the sea of Breck defenders – but the referee let play carry on.
The relentlessness of The Blues continued after  Gillam smashed the ball against the bar from the edge of the box.
It fell only just on the right side of the line for Lower Breck which they then cleared away.
Wingback Kai Lawless received the first card of the game after holding onto Connor Rankin's shirt as Breck looked to break on the counter.
A free kick on the edge of the box in the dying minutes of the first half saw Glossop's best opportunity so far.
Captain Yoak blasted the ball over the wall and in the direction of the top corner of the goal, forcing an excellent save out of The Reds keeper Theo Roberts.
With the second half underway, Glossop continued to play on the front foot.
Lawless managed to work his way past four men with some fancy footwork and foud himself free on the edge of penalty area, only to produce a tame effort towards goal resulting in an easy save.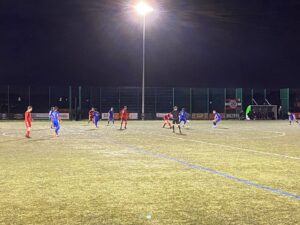 Gillam broke the deadlock for Glossop 75 minutes in after a deflected shot on target inside the area sent the goalkeeper the wrong way.
It didn't take long for The Blues to bag their second of the night. Lawless wriggled his way through the Lower Breck defence to get to the byline from the right side of pitch, pulling it back to Yoak, who calmly placed it into the roof of the net to give his side the lead in the 85th minute.
Lower Breck tried to come back but it was too little too late for The Reds. Substitute Adam Pepper looped a long ball into the penalty area but was punched away by Louis Hood resulting in Glossop North End progressing to the next round of the cup.