City of Liverpool FC are a team for everyone in the city of Liverpool and Merseyside area these are the words of founding member and Chairman Paul Manning.
The 'Purps' are one of the new boys in town formed in 2015 it was a whirlwind few months for Paul and his fellow directors at the time Peter Furmedge, Martin Jones, Kevin Morland and Nicky Allt.
The first meeting took place in late 2014 and within five months, they were formed.
In a busy Liverpool café, Paul agreed to talk to me over a coffee and a full English, A huge Liverpool fan he enjoyed talking about their success over the last three seasons. However, he was more impressed with the strides the club he runs have made since forming in 2015. They have collected eight titles and now in step 4 in the football pyramid.
Paul doesn't like his team been viewed as a new club in their fifth year now he said, "we've been going for quite a few years now and we've climbed up the leagues." With many teams from the Merseyside area in the same league I asked how as a newer club how can you attract fans and compete. He said "we don't compete with the other teams we're a team for the whole city of Liverpool and Merseyside, we never look at the others. All we can do is offer an affordable day out for the family and offer good football and entertainment which I think we do."
After winning the North West Counties League Premier Division last season pipping the team whom they share a ground with Bootle by two points they got out of step five of the English league system putting them on track. The 51 year old on their first season in step 4 told me, "It was great to get out of step five after finishing fourth the year before it's been a good experience we won't be getting promoted now. It's just about winning games and finding our feet." The currently sit 12th firmly in mid table and are looking safe. Looking ahead to next season Paul is aiming higher up the league he said, "Yes of course we want to be looking higher and over the next two years push for the northern premier division." This would leave the club one division below step three which is the National league north and three leagues below the football league."
City of Liverpool are currently ground sharing with Bootle FC and when I pressed on how much help Bootle have helped them he was to praise one of his rivals but said "I am thankful for them for letting us use the stadium but financially we will hit a celling soon and it can only take us so far." Paul is hopefully they will be getting their own ground very soon saying, "It could be now tomorrow or next month or year." Therefore, with no clear plan on when a stadium will be approved you will be seeing them at the Berry Street Garage Stadium for the foreseeable future.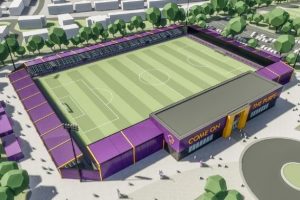 On the long-term aims of the club, I asked about the next five years but Paul does not like to look too far ahead. saying "I like to take it year by year we're not new but we are trying still to establish ourselves but if I was to give goals its definitely the stadium and trying to push for step 3." The club are enjoying quick success and it doesn't show signs of slowing down the club doe everyone on the city look to be on the march.