Fans have reacted angrily to Liverpool Football Club's increase in ticket prices, with season tickets rising by £17.
The first price increase in nine years has come during a cost-of-living crisis, prompting criticism from supporters.
SOS oppose any increase in the cost of tickets and we made that point clear to LFC through the SB.
We acknowledge the price freeze for junior & local tickets but we are in the middle of a cost-of-living crisis, where any increase – even 2% – will impact supporters. https://t.co/VXYBiOiT6m

— Spirit of Shankly (@spiritofshankly) March 14, 2023
One Liverpool fan @aj4eva98 said: "I cannot stand these owners. Honestly, like from the pit of my stomach. Stuff like this makes me sick."
In light of this price increase, here is a list of Five places to watch affordable football around Liverpool.
Prenton Park
Not only is Prenton Park the home of Tranmere Rovers, but it is where Liverpool FC women's team play their home games. Just a short train hop underneath the Mersey, a season ticket for LFC women is just £60 – the cost of one game at Anfield, for 14 at Prenton Park. Match tickets start at £7.50, which is incredible value for the top tier of women's football. Similarly, Tranmere sell matchday tickets for £22, one of the cheapest clubs in the football league.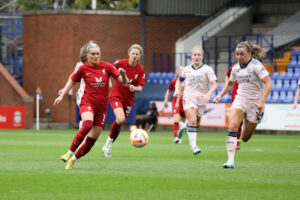 Rossett Park
Famous for their FA cup run a few years ago, Marine AFC have since focused on Northern Premier League football and getting promoted. This season, they are close to sneaking into the play-offs, creating a great atmosphere at the 2,150-capacity stadium. Tickets start at £10 for adults but over 65s, students and teenagers can get to the game for just £6.
Haig Avenue
Although slightly further afield, Southport AFC play a good level of football in the National League North and have a cult following who occupy the all standing Jack Carr stand, creating a special atmosphere. Tickets are just £13.50,  but it is worth making mention that people travelling from Liverpool will have to take the Mersey Rail, adding to the cost  compared with some other options with a £5.95 return ticket.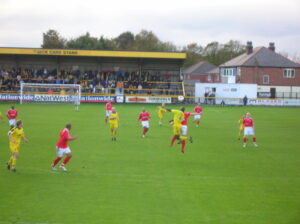 AFC Liverpool
Also playing at Rossett Park, AFC Liverpool stands for affordable football club – hence the AFC. Founded in 2008 by 1000 Liverpool FC fans, AFC Liverpool play in the North West counties football league and was founded when fans felt priced out of the Premier League. At just £80 for a season ticket, with the option of the £40 half season ticket, it is just a fraction of the cost of watching Liverpool FC while supporting a non-profit organisation at the same time.
The Joseph Russell Stadium
Finally, we have Prescot Cables. Playing in the Northern Premier League, The Cables are one of the more established non-league clubs in the region. Tickets are just £9 making it the cheapest men's team on this list. Founded in 1884, Prescot Cables are on of the oldest teams in the area, giving them a loyal following and a welcoming atmosphere.