Speaking today in his pre-match press conference before the Bournemouth game, Liverpool manager Jurgen Klopp had a lot to say on a variety of topics.
He began the conference talking about the pressures of management and showed compassion towards former Everton boss Marco Silva after his sacking from the club yesterday.
"Of course for sure I feel for him.
"Since I have been in England, Everton has been a very ambitious club with all the history and stuff so as one club in the city has a positive development, you try to catch up with that and not only that, but you try to improve your own situation and that for the manager is always difficult."
"For Marco, he is 100% an outstanding coach and manager. It is for sure not his fault alone but everybody knows that, all the Evertonians know that and they thought they needed change so that is the situation."
He compared Everton to Liverpool in terms of the pressure at club's with a decorated history and pointed towards his own experience when joining the Reds for reference.
"When I came in, I said first and foremost we have to make sure that we don't carry our history as a backpack anymore and for that you need positive signs and that has been a problem for every Everton manager since I came in."
Merseyside Derby:
Liverpool's 5-2 victory over Everton in the Merseyside derby on Wednesday was the straw that broke the camel's back in terms of Silva's sacking.
Klopp credited the squad's quality as a whole in giving him confidence to make five changes in the significant game.
"That was a really good team which we sent on the pitch to be honest. I was never in doubt about the quality of the players.
"Of course you can never be sure if you don't play week in and week out with the same group how it will be timing-wise, rhythm-wise but shape-wise I was pretty sure because that is what the boys showed in training.
"In the sessions I could see they were in really good shape. That was the reason for making the changes that we had to do because of the situation we are in and the busy schedule.
"You never know 100% but I was really pleased with how the boys showed up and it was a massive sign for us, but it was just one game and we have to show it again tomorrow.
"We know we are in a really difficult situation with the games coming up, but we accepted that long ago and now we have to deal with it.
"It is not FIFA, or PlayStation where they don't need a rest. It is just how it is. We have to do the changes so as long as the boys give me the opportunity then we can continue to do that."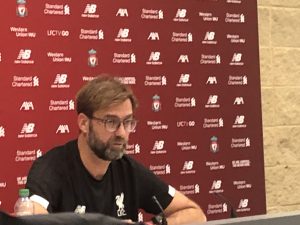 Divock Origi:
Striker Divock Origi scored two goals in the 5-2 win and is consistently showing he is a vital asset to the Liverpool side.
"Div is unbelievably important for us. I was really happy that Mr. Martinez was in the stadium because he can see his qualities because when he goes to the national team he never plays.
"Everybody knows what he can do. Very often we use three other players up front but he is very important for us and it was great he could show his importance in a game like this."
Aston Villa/Club World Cup Fixture Clash:
An issue for Liverpool is the hectic December schedule and the correlation between the Aston Villa and Club World Cup game that is separated by just 24 hours.
Klopp has announced the full first team squad to travel to Qatar for the two games on December 18th and December 21st.
That leaves a very inexperienced youth team to face Aston Villa in the Carabao Cup Quarter-finals on December 17th.
Speaking about the Villa game, the Liverpool manager said:
"I think it is a really nice opportunity for the younger players. I know nobody gives us a chance but football is a wonderful game.
I would love to be part of that game and I hope all the boys, Critch (Neil Critchley) and all the training staff enjoy it as well.
Whatever happens they have no pressure. They should just fight for every inch on the pitch and enjoy themselves. Go there and make your second and third and fourth steps in the world of professional football."
He confirmed changing the dates was not possible and that he didn't think about splitting the squad up for a second.
However, Klopp reiterated that all his current focus is on the Bournemouth game tomorrow as they take a step-by-step approach in their quest for further glory.